IYA2009 Features

Cross the Universe in Paris metro stations!: As part of the IYA2009, corridors of Paris Metro stations have been decked with about 500 meters of astronomical images

Eyes on the Skies wins Special Jury Award at the 2009 MEDEA Awards: EoS receives the Special Jury Award for its high production value at the MEDEA 2009 Awards.

Physics Today: Feature issue on light pollution and its effects on astronomy.

IYA2009 movie and book achieves MEDEA Award 2009 finalist status: The MEDEA awards recognise, encourage, and reward excellence and creativity in media in education.

.Astronomy 2009: Workshop on Astronomy and the New Media: Next week, from 30 November to 4 December, an unconventional workshop takes place in Leiden, The Netherlands, to discuss novel concepts of thinking and working in astronomy today.

The Communicating Astronomy with the Public Journal #7 is out.: In this issue: Hubble SM4, presentations, free astronomy software, love-hate relationship between astronomers and the media and much more!

NASA Images: an invaluable resource for sharing incredible pictures: NASA Images is a searchable database, useful for science communicators, educators, and general astronomy fans.

IYA2009 inspires graphic designers: IYA2009 retro-style posters now for sale

Official Closing of the International Year of the Planet Earth starts tomorrow in Lisbon : From 20 to 22 November 2009, a worldwide event will be held to highlight main results of the International Year of the Planet Earth (IYPE) and to launch new initiatives building on the IYPE legacy.

Send a message to Venus: People are invited to send messages that will be printed in fine letters on an aluminium plate and placed aboard the Venus Climate Orbiter AKATSUKI.
Showing 41 to 50 of 249
Search IYA2009 Features
---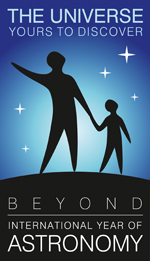 National Nodes: 148
Organisational Nodes: 40
Organisational Associates:33
National Websites: 111
Cornerstone Projects: 12
Special Task Groups: 11
Special Projects:16
Official Products:8
Media Partners:22