Copyright Information
The IYA2009 material you see on these pages is copyright-free and may be reproduced without fee, on the following conditions:
IYA2009 is credited as the source of the material (images/videos etc.). Please add other additional credit information that is posted together with the material.

The images may not be used to state or imply the endorsement by IYA2009 or any IYA2009 employee of a commercial product, process or service, or used in any other manner that might mislead.

If an image includes an identifiable person, using that image for commercial purposes may infringe that person's right of privacy, and separate permission should be obtained from the individual.

We request a copy of the product to be sent to us to be included in our archive.
IYA2009 Resources are licensed under a Creative Commons Attribution-Non-Commercial-Share Alike 3.0 Unported License.

If you need to obtain more information, please contact us.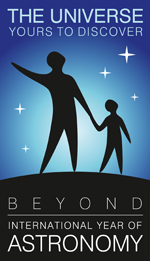 National Nodes: 148
Organisational Nodes: 40
Organisational Associates:33
National Websites: 111
Cornerstone Projects: 12
Special Task Groups: 11
Special Projects:16
Official Products:8
Media Partners:22