New Media
This Task Group provides online astronomy experiences where people work, play and learn; creates content to expose people to astronomy; distributes content for active and passive channels and uses a diverse suite of technologies to reach people on multiple platforms and in a range of online settings.

Task Group
Chair: Pamela Gay ( pamela@starstryder.com )

Objectives
Provide online astronomy experiences in the places that people work, play and learn.
Create content that will expose people to astronomy, provide them regular content, and create special opportunities for learning.
Distribute content for active ("pull") and passive ("push") channels and through guerilla marketing techniques.
Use a diverse suite of technologies to reach people on multiple platforms and in diverse online settings.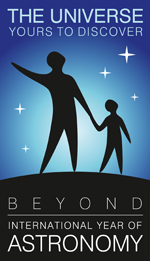 National Nodes: 148
Organisational Nodes: 40
Organisational Associates:33
National Websites: 111
Cornerstone Projects: 12
Special Task Groups: 11
Special Projects:16
Official Products:8
Media Partners:22