UNESCO
UNESCO - the United Nations Educational, Scientific and Cultural Organization – was founded on
16 November 1945. It is a specialised agency of the United Nations that, through its day-to-day work in education, the social and natural sciences, culture and communication, aims to build peace in the minds of men.

UNESCO functions as a laboratory of ideas and a setter of standards to forge universal agreements on emerging ethical issues. The Organization also serves as a clearinghouse for the dissemination and sharing of information and knowledge, while helping Member States to build their human and institutional capacities in diverse fields. In short, UNESCO promotes international cooperation among its 193 Member States and six Associate Members in the fields of education, science, culture and communication.
UNESCO is working to create the conditions for a genuine dialogue between nations based on respect for shared values and the dignity of each civilisation and culture. The world urgently requires global visions of sustainable development based upon the observance of human rights, mutual respect and the alleviation of poverty, all of which lie at the heart of UNESCO's mission and activities.

More information: http://portal.unesco.org

UNESCO Contact for IYA2009
Yolanda Berenguer
Space Education Programme Coordinator
UNESCO HQ, Paris
Tel: +33-1-45684171
E-mail: y.berenguer@unesco.org
http://www.unesco.org/iya2009

UNESCO Coordinator for the Thematic Initiative "Astronomy and World Heritage"
Anna SIDORENKO-DULOM
Coordinator
Thematic Initiative "Astronomy and World Heritage"
UNESCO World Heritage Centre
7, Place de Fontenoy
75352 Paris 07 SP, France
Tel: (33)1.45.68.20.96
Fax: (33)1.45.68.55.70
E-mail: a.sidorenko@unesco.org
http://whc.unesco.org
http://whc.unesco.org/pg.cfm?cid=281&id_group=21&s=home
http://whc.unesco.org/en/news/404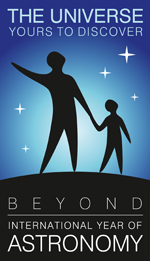 National Nodes: 148
Organisational Nodes: 40
Organisational Associates:33
National Websites: 111
Cornerstone Projects: 12
Special Task Groups: 11
Special Projects:16
Official Products:8
Media Partners:22