Galileo
The aim of this task group is to raise Galileo Galilei's public profile through intra-community communication, formal and informal education and public outreach.

Task Group
Paolo Galluzzi, (Chair), Institute and Museum of the History of Science, Italy.
Thomas Hockey, Vice-Chair, AAS Historical Astronomy Division.
Peter Abrahams, Past President, Antique Telescope Society.
Marvin Bolt, Director, Webster Institute for the History of Astronomy.
Daniel Green, Harvard-Smithsonian Center for Astrophysics.
Robert Hatch, Department of History, University of Florida.
Documents

Exhibitions about Galileo scheduled for 2009
Galileo's telescope. The instrument that changed the world, now in Florence, then in Beijing and Stockholm.
Galileo, the Medici and the Age of Astronomy,April 4-September 7, at the Franklin Institute, Philadelphia.
Galileo. Images of the Universe from Antiquity to the Telescope, March 3th-August 30th 2009, Palazzo Strozzi, Florence.
The Telescope and the Paintbrush. New Science and New Art in the Age ofGalileo, May 9th - July 20th 2009, Palazzo Giuli, Pisa.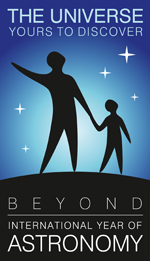 National Nodes: 148
Organisational Nodes: 40
Organisational Associates:33
National Websites: 111
Cornerstone Projects: 12
Special Task Groups: 11
Special Projects:16
Official Products:8
Media Partners:22