Extrasolar Planets
This Task Group will operate in an area that is both easy for the general public to understand and one of the greatest scientific adventures of the 21st century: extrasolar planets and the search for life on these planets. The Task Group will create and maintain www.exoplanet2009.org, an international, multilingual website.

Chair: Jean Schneider ( jean.schneider@obspm.fr )


The medium
Although it may appear to lack originality, we shall open in 2009 an international, multilingual, website Exoplanet2009.org. The advantages of a website are numerous:
All the participants of this operation being very busy, maintaining a website demands only a moderate investment in time.
Nowadays, it is the easiest and most efficient way to reach a wide public.
It is easy to make it multilingual.
A single worldwide website is a sign of some solidarity among the researchers in this domain.
In the spirit of this "globalisation", it is a convenient way to have a delocalised cooperative activity.
It can reach people even in the heart of the desert, where there are no observatories nor large education centres.

Participants
The participants are the managers of the five best websites professionally dedicated to exoplanets:
California & Carnegie Planet Search
http://exoplanets.org/
Extrasolar Planets Encyclopaedia
http://exoplanet.eu
Geneva Extrasolar Planet Search Programmes
http://obswww.unige.ch/~udry/planet/planet.html
Oklo
http://oklo.org
PlanetQuest
http://planetquest.jpl.nasa.gov/
Since they are all professionals in the field of exoplanets, first hand, high quality and up-to-date information is guaranteed. They have all given their agreement. Other websites have asked to participate; discussions are under way.


Content
There are two chapters:

1) Informative chapter (draft):
Why exoplanets?
Exoplanets and Society (among other astrobiology).
First findings.
Short-term, mid-term and long-term future.
Other web resources.
The level will be "educated outreach".

2) Interaction with the public:

The site will enourage and collect reflections from the public on the interest (or not) of exploring exoplanets and searching for life in the Universe. The public will be encouraged to propose original ideas and give opinions on any subject regarding exoplanets. It is for us a very important aspect of this initiative and we will put much effort on it. Contacts are planned with journalists. A final advantage of a website: the content will evolve depending on new findings and the public's reaction.


Expected attendance
We expect several thousand connections per day.
This estimate rests on the following facts:
The site exoplanet.eu has about 3000 connections per day.
The major participant sites (exoplanet.eu, exoplanets.org and PlanetQuest) are linked about 20 000 times each on the web (source: Google).

Languages
One of the partners (http://exoplanet.eu) has a multilingual version in the main alphabetic languages (English, French, German, Italian, Polish, Portuguese, Spanish) thanks to a network of international correspondents. The version in Farsi (Iranian) is almost ready thanks to an Iranian speaking astronomer in Paris. They are solicited for participate to a multilingual version of Exoplanet2009.org. Versions using non-Latin characters (Arabic, Chinese, Greek, Hindi, Japanese and Russian) are under study.


First implementation
The web site http://Exoplanet2009.org has been created.
Presently only the home page is ready.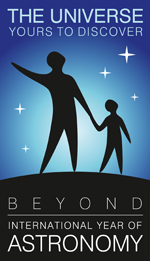 National Nodes: 148
Organisational Nodes: 40
Organisational Associates:33
National Websites: 111
Cornerstone Projects: 12
Special Task Groups: 11
Special Projects:16
Official Products:8
Media Partners:22