IYA2009 Final Report Questionnaires
Now that the IYA2009 had its official closing it is time to look back and account for all the wonderful activities that made this a truly amazing year for astronomy. It is extremely important to register all that happened, all that was produced and the results achieved by your work and the work of all those who participated in the IYA2009 activities in your country or institution, so that future generations of scientists and science communicators can continue the work started in 2009 and learn from your experience, beyond the International Year of Astronomy.
As you know, the work of the Secretariat in the next few months will be focused on reporting and evaluating the IYA2009 worldwide. But without you, this epic task will not be possible. Therefore we ask you the final effort of supplying us with a report on the IYA2009 activities which you and your team were responsible for. When preparing this form, our main aim was to minimize the time you spend on this. We believe that the form can be filled out in 30-40 minutes depending on the number of activities you want to report on, and we appreciate the time you can spend on this.
IYA2009 National Nodes Final Report Questionnaire
IYA2009 Organisational Nodes Final Report Questionnaire
IYA2009 Cornerstones and Special Projects Final Report Questionnaire
Please submit this form to the IYA2009 Secretariat until the 28th of February 2010
For more information, please contact the IYA2009 Secretariat: iya2009@eso.org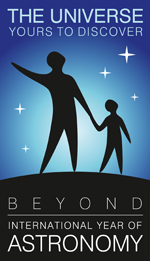 National Nodes: 148
Organisational Nodes: 40
Organisational Associates:33
National Websites: 111
Cornerstone Projects: 12
Special Task Groups: 11
Special Projects:16
Official Products:8
Media Partners:22