International Astronomical Union
The International Astronomical Union (IAU) is the initiator and international leader of IYA2009. The IAU was founded in 1919 and maintains a small secretariat in Paris. Its mission is to promote and safeguard the science of astronomy through international cooperation. The Individual Members are professional astronomers active in research and education in astronomy all over the world. The IAU is a grassroots organisation run by its members for the benefit of astronomy worldwide. It maintains friendly relations with organisations that include amateur astronomers in their membership. Currently the IAU has nearly 10 000 Individual Members in 87 countries. In addition to arranging scientific meetings, the IAU promotes astronomical education and research in developing countries through its International Schools for Young Astronomers, Teaching for Astronomy Development and World Wide Development of Astronomy programmes and through joint educational activities with UNESCO and other bodies.

The IAU acts as a catalyst and coordinator for IYA2009 at the global level, largely, but not exclusively, through the IYA2009 website and the Secretariat. The IAU has organised a small number of international events, the Cornerstone Projects. The IAU is the primary interface with bodies such as UNESCO and the United Nations.

The next triennial General Assembly of the IAU takes place in Rio de Janeiro in August 2009. Some 2500 astronomers from all over the world will attend. Considerable media attention is always given to the General Assemblies, with regular briefings and news releases provided. Naturally the programme of the General Assembly will be closely linked to the themes and activities of the IYA2009, and this will provide a further opportunity for the partners of the IYA2009 to promote their activities through displays and speakers at dedicated sessions, particularly those devoted to communication and education.
More information: www.iau.org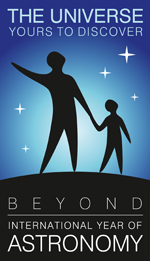 National Nodes: 148
Organisational Nodes: 40
Organisational Associates:33
National Websites: 111
Cornerstone Projects: 12
Special Task Groups: 11
Special Projects:16
Official Products:8
Media Partners:22