The Cosmic Detective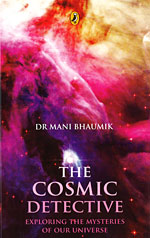 IYA2009 Official Product
About the Book - The Cosmic Detective

Are you feeling a little lonely in this vast universe? Find out who your neighbours are in this spectacular and thrilling guide to the deepest mysteries of the cosmos. International best-selling author and world-renowned scientist Dr Mani Bhaumik takes young readers on a whirlwind tour into space with The Cosmic Detective. Addressing his readers as cosmic detectives, the author actively enlists his young sleuths in finding solutions to questions that have puzzled space scientists for ages.How and when did the universe begin? What are stars made of? How far away are the most distant galaxies? What is a quasar? Explore these fundamental cosmic riddles and more in this fascinating journey of discovery and wonder. Find out about nebulae and black holes, navigate the galaxies and the enormous expanses beyond, dive into the heart of neutron stars and walk on distant planets as you join the author in investigating the most bizarre aspects of the cosmos. And in the broader context of our own existence in the universe, Dr Bhaumik reveals that when we explore the cosmos, we also explore ourselves. Packed with interesting facts and dazzling colour photographs, this beautifully written primer is ideal for students and cosmic detectives of all ages.
"The Cosmic Detective is an inspirational read. Dr. Bhaumik tackles topics with impressive scope, yet delves into them with spirit rarely seen. Marrying scientifically accurate text with accessible language is no easy task, but The Cosmic Detective is proof that it can be done."
Dr. Catherine Cesarsky
President, International Astronomical Union
"The Cosmic Detective reveals another one of Mani Bhaumik's talents: he is an outstanding science writer to complement his demonstrated scientific insight. He has the unique ability to distill from the voluminous material the essential concepts for the general public."
Professor Walter Thirring

Former Director of the Theory Division at CERN, Geneva
Director of the Schrödinger Institute, Vienna
More information:
http://www.penguinbooksindia.com/Bookdetail.aspx?bookId=7600
The Cosmic Detective on Amazon
The Cosmic Detective presentation video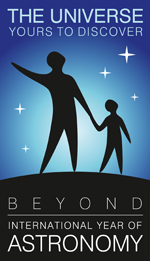 National Nodes: 148
Organisational Nodes: 40
Organisational Associates:33
National Websites: 111
Cornerstone Projects: 12
Special Task Groups: 11
Special Projects:16
Official Products:8
Media Partners:22