Music and Astronomy Under the Stars
25 August 2010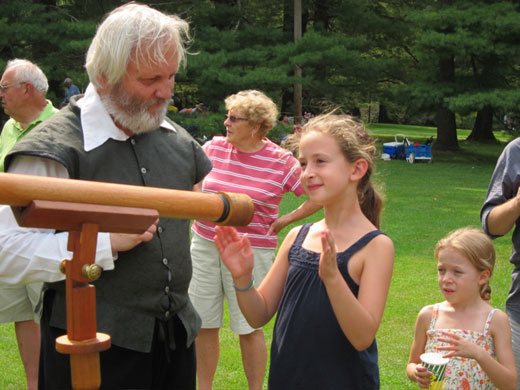 Dr. Donald Lubowich, Coordinator of Astronomy Outreach at Hofstra University, brought his NASA-funded Music and Astronomy Under the Stars program to the Tanglewood Music Festival in Lenox, MA on August 3, 2010. Tanglewood on Parade is an all-day music and astronomy family program and was attended by over 16,000 people with most people participating in some of astronomy activity. The Dudley Observatory (the oldest independent astronomy research and education organization in the United States chartered in 1852), the Springfield STARS astronomy club, and students from the Williams College Department of Astronomy assisted with the astronomy activities.
Popular activities included solar observing during the day and observations of Jupiter and its moons at night. The public was also very interested in the large astronomy posters and images which included a 3-meters HST image of the Orion Nebula; a 6-meters TWAN image of the Milky Way from Mauna Kea by Wally Pacholka and twelve STScI/American Library Association Vision of the Universe posters describing 400 years of astronomy.
There were lectures on July 11, 2010 Easter Island eclipse and recent eclipses by Dr. Jay Pasachoff (Williams College) and edible astronomy demonstrations by Dr. Donald Lubowich (Hofstra University). Science educator Michael Francis, dressed as Galileo, gave a program on Galileo's telescope and his astronomical discoveries accompanied by Dr. Christopher Morrongiello (Hofstra University) who played lute music composed by Galileo's father and brother.
An astronomy video composed of multiple of NASA videos, FETTU images, and TWAN images (created by Dr. Jose Francisco Salgado, Adler Planetarium) and the American Museum of Natural History planetarium programs Journey to the Stars (narrated by Whoopie Goldberg) and Cosmic Collisions (narrated by Robert Redford) were also shown during the day.
The Boston Pops and Boston Symphony Orchestras played music composed by John Williams accompanied by Yo-Yo Ma and guest appearance by James Taylor followed by fireworks accompanying a performance of Tchaikovsky's "1812" Overture.
Search IYA2009 Updates
---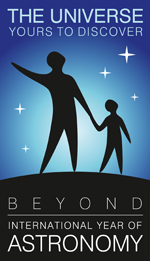 National Nodes: 148
Organisational Nodes: 40
Organisational Associates:33
National Websites: 111
Cornerstone Projects: 12
Special Task Groups: 11
Special Projects:16
Official Products:8
Media Partners:22