Recent Papers and an Announcement from Astronomy Education Review
14 September 2010
Astronomy Education Review (AER), the web-based journal/magazine about astronomy education and outreach, continues to publish significant papers and articles as it moves into the second half of its 9th volume.
There is currently no charge for reading or downloading the full articles in the journal and there are no page charges to publish, thanks to the generosity of its publisher, the American Astronomical Society
A partial table of contents for Volume 9 is below. You can see the entire current issue and all past volumes at: http://aer.aip.org
AER actively solicits interesting papers and articles on all aspects of astronomy and space science education and outreach. All papers are refereed, and a set of guidelines for contributing to AER is available on the site. Thomas Hockey of the University of Northern Iowa is the Editor in Chief. Andrew Fraknoi of Foothill College serves as Senior Editorial Advisor. Judy Johnson of the American Astronomical Society is the Managing Editor.
The journal is pleased to announce that it is actively soliciting papers and articles on results from the International Year of Astronomy. Such papers should meet the regular guidelines of the journal's sections, and should, whenever possible, include analysis that goes beyond a single project or single institution.


________________________________________

Papers and articles in the current volume include:
________________________________________

A National Study Assessing the Teaching and Learning of Introductory Astronomy, Part II: The Connection between Student Demographics and Learning

What It Would Take to Increase the Number of High School Astronomy Courses: A Survey of Principals

Galaxy Zoo: Exploring the Motivations of Citizen Science Volunteers

Student Ideas about Kepler's Laws and Planetary Orbital Motions
Survey of the Goals and Beliefs of Planetarium Professionals Regarding Program Design

The AstroLrner E-Community: A 10 Year Retrospective

Using Visual Assessments and Tutorials to Teach Solar System Concepts in Introductory Astronomy

The Impact of Stereo Display on Student Understanding of Phases of the Moon

Covering the Standards: Astronomy Teachers' Preparation and Beliefs

Good Readings on Astronomy Education from Other Journals in 2009

Catching Cosmic Rays with a Digital Single Lens Reflex Camera

The Pulsar Search Collaboratory
Search IYA2009 Updates
---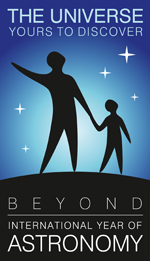 National Nodes: 148
Organisational Nodes: 40
Organisational Associates:33
National Websites: 111
Cornerstone Projects: 12
Special Task Groups: 11
Special Projects:16
Official Products:8
Media Partners:22