GHOU/ GTTP Updates
21 September 2010
GTTP@ESA 2010
I am very glad to inform you the 2010 edition of GTTP@ESA training session is already announced. Although the session this year is not open to nations that are not members of ESA or cooperating states we are working to enlarge this offer to nations around the world. GTTP@ESA will continue in the following years and great plans are on march.
GHOU 2011
Next GHOU meeting will take place during the last week of July in Yerkes Observatory (USA). The LOC is already starting to work and we hope to have more information for all of you very soon.
GHOU 2010
Last August we had our yearly Global Hands-on Universe meeting in Munich. We had a very productive meeting preceded by a GTTP session. We had wonderful resources an tools presented to the trainees. Among them: Salsa J, AntMe, Thinking Worlds, Google Wave, etc. We have also successfully approved GHOU Association by laws, so we are now ready for the admission of new members. We have also set up an amazing communication team …
GHOU communication team
Global Hands-on Universe has now an amazing communication team. Some will help with the newsletter, some will help on social networks. Here is the team so far :
Kathan Kothari – India
Avivah Yamani – Indonesia
Susan Murabona – Kenya
Thillina Heenatigala – Sri Lanka
Oana Sandu – Romania
Rosa Doran – Portugal
WOW … how impressive .. truly international .. and of course … other volunteers will be appreciated. Our main goal is to have the whole community connected all along the year. Let's try to make this a success.
GTTP @IYA2009 Report
IYA2009 final report is finally out and it is truly very impressive. I had it in my hands and is really breath taking to see all the wonderful work so many people have put together. A big congratulation to the International Coordination. What a unique example of global cooperation. GTTP and GHOU are very present there. We can all be very proud by our achievements,
Now the future lies ahead of us and everyone's help and advices is important to keep this momentum going. I am bold enough to say that we are indeed changing the world to a better place.
Rosa Doran
Search IYA2009 Updates
---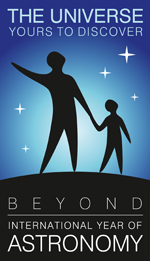 National Nodes: 148
Organisational Nodes: 40
Organisational Associates:33
National Websites: 111
Cornerstone Projects: 12
Special Task Groups: 11
Special Projects:16
Official Products:8
Media Partners:22