einstein@home
29 September 2010

Now 11 years old and running stronger than ever, SETI@home has opened the way for about 50 similar distributed-computing projects — in molecular biology, climate modelling, quantum chemistry, chess problems, and other number-crunching endeavours. Most of these run through BOINC, the Berkeley Open Infrastructure for Network Computing.
Several of these projects involve astronomy. One called Einstein@Home started by examining data from the LIGO gravitational-wave observatory, looking for certain subtle signatures of spacetime ripples that might have escaped initial notice. Last year Einstein@Home expanded to took through radio data from an ongoing pulsar hunt at the Arecibo dish in Puerto Rico.
On June 11th Einstein@home made its first discovery: a pulsar drifting through space all by itself about 17,000 light-years away in Vulpecula. The discovery took place on a computer running in the basement of Chris and Helen Colvin of Ames, Iowa. Three days later it was confirmed on a computer owned by Daniel Gebhardt in Mainz, Germany. It then brought itself to human attention.
More information: http://einstein.phys.uwm.edu/
Home Computers Dredge Up Weird Pulsar:
Search IYA2009 Updates
---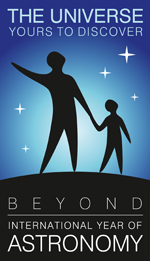 National Nodes: 148
Organisational Nodes: 40
Organisational Associates:33
National Websites: 111
Cornerstone Projects: 12
Special Task Groups: 11
Special Projects:16
Official Products:8
Media Partners:22