Central European Deepsky Imaging Conference
15 October 2010
The CEDIC (Central European Deepsky Imaging Conference) was held for the first time, during the "100 hours of astronomy" of IYA 2009. It was the first international deep sky astrophotography conference in Europe. Because of the great success of the conference in 2009, we decided to host another CEDIC in 2011.
Location: Linz (Austria)
Date: March 18-20 2011
Conference language: English
Opening of registration: Dec 12 2010
Additionally to the main track with the lectures, we plan to to do workshops in parallel for advanced photographers as
well as beginners. At the moment we are working on the schedule, but we can already let you know one highlight:
We are very glad that we could win Jay GaBany for a lecture about his work on star streams as well as for making a
workshop on his advanced image processing techniques.
Calling for speakers
If you are interested in giving a lecture (40 minutes) or in making a workshop (100 minutes), then please send an
email to me or to spotlight@cedic.at
More information and continuous updates can be found at
Search IYA2009 Updates
---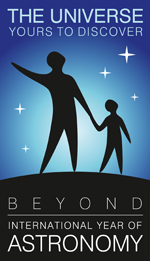 National Nodes: 148
Organisational Nodes: 40
Organisational Associates:33
National Websites: 111
Cornerstone Projects: 12
Special Task Groups: 11
Special Projects:16
Official Products:8
Media Partners:22