John Dobson Webcast Space Available
5 November 2010
John Dobson, popularizer of the widely-used Dobsonian telescope design that now bears his name, will be interviewed in the first episode of a new series of webcasts, Astronomers Without Borders' Living Legend Series on Saturday, November 13.
Reserve your space now. First priority will be given to groups holding events to maximize the number of people taking part in the live webcast. Affiliates of Astronomers Without Borders, the groups that are a part of the AWB global community, will be given top priority. Registration as an AWB Affiliate is free and open to astronomy clubs, advocacy groups, manufacturers, retailers, university departments and more - ALL groups related to astronomy and space.
Reserve your space in the live webcast
Learn more about AWB Affiliates and register your group
A limited number of groups will be able to take part in the webcast and ask questions to John Dobson directly.
Search IYA2009 Updates
---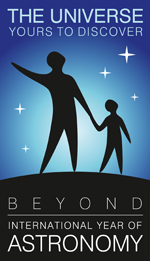 National Nodes: 148
Organisational Nodes: 40
Organisational Associates:33
National Websites: 111
Cornerstone Projects: 12
Special Task Groups: 11
Special Projects:16
Official Products:8
Media Partners:22