From Earth to the Universe - Update
13 January 2009
Greetings all FETTU participants,
IYA2009 is officially here and From Earth to the Universe is progressing very well! Please see the latest list of updates on the project at: http://www.fromearthtotheuniverse.org/updates.php
Highlights include:
--The opening of the "For Visitors" section which contains image tours, maps and other "fun stuff". http://www.fromearthtotheuniverse.org/learn_more.php
--A new online Events Calendar with dates and locations listed for all events that are underway. If you have corrections or additions to this list, please email me as soon as possible. http://www.fromearthtotheuniverse.org/table_events.php
--FETTU will be available at the opening ceremonies at UNESCO in Paris, France this week (Jan 15-18). Stay tuned for photos and video.
--"Digital FETTU" is now available for request on DVD. A short preview version has been posted to the FETTU web site. http://www.fromearthtotheuniverse.org/DigitalFETTU.php
--Coming soon: A press release template for your FETTU events and FETTU evaluation sheets.
Please keep us informed as your exhibition develops - any specific dates you can send will be added to (or edited on) the online FETTU calendar of events and be incorporated into various press releases and advertisements for the project. In addition, any photos, videos and other information on the event that you can provide after it has occurred would be wonderful to help us evaluate the success and report back to all the interested and supporting organizations.
Many thanks & best wishes for success,
Kim et al.
www.fromearthtotheuniverse.org
Search IYA2009 Updates
---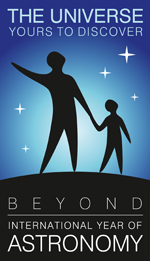 National Nodes: 148
Organisational Nodes: 40
Organisational Associates:33
National Websites: 111
Cornerstone Projects: 12
Special Task Groups: 11
Special Projects:16
Official Products:8
Media Partners:22