News Round-up, 19 January 2009
19 January 2009
Hello and welcome to the second news round-up! It's been an exciting week for IYA2009, in no small part because of the official Opening Ceremony in Paris. Not unexpectedly, this event was reported by many outlets. Innovations Report, Kansas City info Zine (with focus on the National Science Foundation's contributions), OneIndia, Space.Ref.com, and Kazakhstan-based Kazinform are examples of the international coverage that the Opening Ceremony attained. Of course, this is just a sample; there are countless more mentions on other websites and blogs in cyberspace. And I'd be remiss if I didn't mention the Cosmic Diary LiveBlog, which contains on-the-scenes accounts of the event, and photos to accompany the text.
In other news, The Philadelphia Inquirer has run an article outlining upcoming developments in the world of big telescopes. 400 years after Galileo's first observations, the technology we have is incredible. A well-written overview of the Year has been provided by The Skeptic Detective, which promises to post updates when new astronomical discoveries are made. And Hannah Lally from The Wire has produced an article about IYA2009, which features opinions from astronomers and astronomy communicators. It's well worth a read.
Kent News in the UK has run a story about events occurring in that part of the world, particularly during an opening ceremony on 20 January. The article contains some good quotes from Prof. Michael Smith, the local coordinator.
The Westmoreland Gazette talks about light pollution, and how it can obscure valuable views of the heavens. It includes the lovely closing line "This year, the sky is definitely not the limit. " There's also mention of light pollution on the NZCity, which reports that there is a push for an area in New Zealand to become a night sky reserve. And excellent news from AboutMyArea, which says that the Exmoor (UK) National Park Authority has been awarded £3500 from the Royal Astronomical Society in support of IYA2009 and dark sky programmes. These will occur throughout the year, so keep an eye out for them if you happen to live in that part of the world.
Until next week, continue celebrating IYA2009, and fingers crossed for clear skies!
Lee Pullen
IYA2009 Staff Writer
Search IYA2009 Updates
---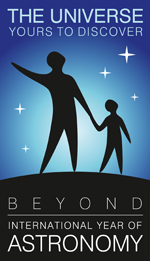 National Nodes: 148
Organisational Nodes: 40
Organisational Associates:33
National Websites: 111
Cornerstone Projects: 12
Special Task Groups: 11
Special Projects:16
Official Products:8
Media Partners:22