News round-up, 23 January 2009
23 January 2009
Welcome to the third IYA2009 round-up, where we take a whistle-stop tour of news coverage from the world of cyberspace.
Waves from the IYA2009 Opening Ceremony are still being felt, and this report courtesy of the US node contains some interesting information, including mentions of the Galileoscope project and the documentary production BLAST!
The Oklahoma Daily has dedicated a few paragraphs to local news about the Year, pointing out an upcoming series of astronomy lectures at the Sam Noble Oklahoma Museum of Natural History, followed by public observing sessions using telescopes. A similar situation is occurring in Clanfield Observatory, reports the UK's Portsmouth Today site. The author says that the events will coincide with "the first International Year of Astronomy". There's going to be another? Yay!
For those telescope-buffs out there, you may like to read the Popular Mechanics article about the most powerful telescopes today, as well as a sneak-preview of the future of giant observatories.
Inquirer.net published a good article about IYA2009 from a Filipino-perspective, and is noteworthy for containing a section on how light pollution not only disrupts our view of the stars, but also stresses ecological systems.
A Johannesburg site has a feature on the upcoming solar eclipse that will be visible from South Africa. Where to go and how to safely view it are outlined. Note the banner image, which appears to be a photo of a photo. Australia's South Western Times also discusses the eclipse, and suggests using a pinhole camera to observe it.
A short but interesting story was recounted by The Guardian about scientists trying to conduct genetic testing on the remains of Galileo, with the aim of learning more about his poor eyesight, and whether that influenced the observations he made. The article politely mentions IYA2009 at the very very end.
CNW Telbec reports that The Montréal Planetarium will be celebrating IYA2009 in style, by hosting a great number of events. Astronomers will be taking their shows beyond the planetarium doors to local parks, guaranteeing a greater number of people will learn about our Universe. Over 70 events have been planned, including observing sessions, contests, workshops and discussions.
And last but not least, Gerard van Belle's blog on the Cosmic Diary has announced a major development in the world of astronomy: the European Southern Observatory HQ's coffee machine has broken down. Until it's fixed, the world's scientific output will be severely hampered. Let's hope it's repaired double-time!
Lee Pullen
IYA2009 Staff Writer
Search IYA2009 Updates
---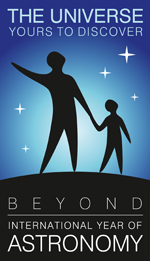 National Nodes: 148
Organisational Nodes: 40
Organisational Associates:33
National Websites: 111
Cornerstone Projects: 12
Special Task Groups: 11
Special Projects:16
Official Products:8
Media Partners:22