IYA2009 News Round-up, 6 February
6 February 2009
News, glorious news!
IYA2009 has an official patron, Dr. Mani Bhaumik. This talented individual is helping IYA2009 to achieve its aims and his appointment has not gone unnoticed, as IBN Live, Mangalorean.com, The Times of India, Thaindian News and Nhatky.in report.
Here's one for all you keen amateur astronomers: Comet Lulin is getting ever-brighter in the night sky, and is attracting some deserving attention. Let's give a shout-out to IYA2009.com which has a short article with some useful maps outlining where to locate this object. Perhaps the author was inspired by the IYA2009 site update.
Astronomers are often asked why studying the heavens is beneficial to society. Business Daily Africa has written about the sometimes overlooked but very important economic benefits of astronomy, and claims that countries that don't invest are missing out.
Stamp collecting astronomy enthusiasts will be pleased to hear that a plethora of themed stamps will be released during 2009, commemorating our favourite branch of science. For a sneak-preview of what to expect, head on over to the Rainbow Stamp Club.
The Christian Science Monitor has given a mention to both IYA2009 and the 200th birthday of Charles Darwin. This has also been noticed by Open Parachute, who go one better by putting the logo next to the text. Thanks!
And finally, what has IYA2009 got to do with the Dewey Decimal Classification System? Only one site dares answer that: The Dewey blog!
Search IYA2009 Updates
---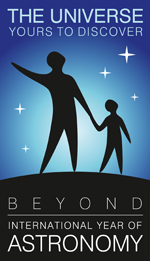 National Nodes: 148
Organisational Nodes: 40
Organisational Associates:33
National Websites: 111
Cornerstone Projects: 12
Special Task Groups: 11
Special Projects:16
Official Products:8
Media Partners:22