British 1894 Astronomer Royal becomes new Cosmic Diary blogger
13 February 2009
The Cosmic Diary, a Cornerstone Project of the International Year of Astronomy 2009 will have a new participant from 18 February: Great Britain's Astronomer Royal from the year 1894, William Henry Mahony Christie. He will be joined by his two assistants, Herbert Hall Turner and Frank Watson Dyson, as they each blog in text and images about their lives and work at the Greenwich Observatory via the official website: www.cosmicdiary.org.
Of course, these astronomers won't really be blogging, as they died long ago. Rather, current Royal Observatory Greenwich staff will be using journals and other historical documents to adopt the guise of Christie, Turner and Dyson. It's all part of the Cosmic Diary, a project which aims to put a human face on the science of astronomy. Alongside Christie and co. are over 60 modern professional astronomers, currently blogging about their daily lives, the work they conduct, and the challenges they face. Members of the public can see what being an astronomer is really like, and how ground-breaking research is conducted.
Since its launch on 1 January 2009, the Cosmic Diary has received more than 25,000 hits from visitors in 152 countries. The huge potential of the project made waves in the scientific community. NASA, The European Space Agency, the European Southern Observatory, and the Japan Aerospace Exploration Agency requested their own sub-blogs which are hosted on the official site, broadening its reach even further. The contribution from the Royal Observatory Greenwich will give a historical flavour to proceedings, and highlight how much has changed since the day of Christie.
Mariana Barrosa, Cosmic Diary Chair, comments: "we're all very excited to have the Royal Observatory Greenwich team join the Cosmic Diary. This historical twist is an excellent way of showing the public that scientists are ordinary people, and that astronomy is a fascinating subject. It may even inspire some to pursue it as a career!"
The Cosmic Diary website, www.cosmicdiary.org, is certainly one to watch during the International Year of Astronomy 2009!
Search IYA2009 Updates
---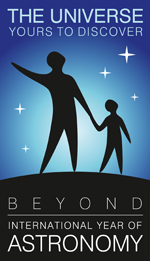 National Nodes: 148
Organisational Nodes: 40
Organisational Associates:33
National Websites: 111
Cornerstone Projects: 12
Special Task Groups: 11
Special Projects:16
Official Products:8
Media Partners:22