News round-up, 20 February 2009
23 February 2009
It's time to hop aboard the news train. Choo-choo!
But before we depart, remember that these updates are almost exclusively English-language based. Check local sources and your favourite news aggregator sites as well (e.g.: http://news.google.com), to complement these overviews. Ok, let's go!
One of the most exciting projects this year is the Galileoscope, low-cost and easily-available telescopes. MSNBC.com's Cosmic Log has a feature article about the 'scopes going on sale. It highlights the relevant details, and even boasts a video of US SPoC Doug Isbell explaining the ins and outs of a Galileoscope. Good job Doug, Hollywood awaits!
The UK launch of IYA2009 was held this week at Greenwich Observatory. To mark the event, the Royal Astronomical Society, Institute of Physics, and Science and Technology Facilities Council asked people in the UK what Galileo actually did. Astronomy, Science Daily, Albuquerque Express, Thaindian News and NewKerala reveal that the answers were a little less than accurate, with 73% crediting him with discovering objects including Neptune. Let's hope that these misconceptions are tackled during IYA2009...
Back to Galileo now, because The Lindsay Post (Ontario, Canada) is advertising a Lindsay Concert Foundation show, called "The Galileo Project: Music of the Spheres", a co-production of Tafelmusik Baroque Orchestra and the Banff Centre. This show combines music and art, commemorating IYA2009. How modern!
NASA has been marking IYA2009 this week with image unveilings at several sites across the US, comments Public Opinion and The Journal. The University of Arizona reports that its Biosphere 2 and Mount Lemmon SkyCenter will be used to unveil their exhibits. The pictures look very impressive so try to see them if you live in the vicinity.
And finally, astronomy is one of the few fields of science in which enthusiasts can make real contributions. This fact is central to the Galaxy Zoo project, recently updated and featured on Scientific Blogging. Sign up and help study 250 000 galaxies, searching for the strange and unusual. You can do that NOW. That's why I put this one last, see?
Lee Pullen
IYA2009 Staff Writer
Search IYA2009 Updates
---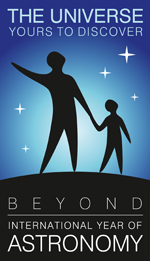 National Nodes: 148
Organisational Nodes: 40
Organisational Associates:33
National Websites: 111
Cornerstone Projects: 12
Special Task Groups: 11
Special Projects:16
Official Products:8
Media Partners:22