100 Hours of Astronomy Update
23 February 2009
The 100 Hours of Astronomy Task Group welcomes two new members
Ricardo Reis of the IYA2009 Solar Physics Task Group (SPTG) brings his experience in organizing IYA2009's first event, Dawn of IYA2009, to our effort. Ricardo is also instrumental in organizing the latest program of 100 Hours of Astronomy -- SunDay, a day to focus attention on the Sun on 5 April. SPTG is the lead organization for this program.

Stuart Lowe of the IYA2009 New Media Task Group, and leader of AstroTwitter, brings expertise in the latest ways to get our webcasts and blogs to the world. If you haven't heard of Twitter before, you will soon.

New Sponsor
100 Hours of Astronomy welcomes our newest sponsor, SODAP - SOBOMEX Sky and Space Department, manufacturer of safe eclipse glasses for solar viewing and the Venuscope, a safe and inexpensive projection solar viewer. Visit their web site at http://www.eclipse-glasses.com/ to see products you might want for solar outreach programs during IYA2009.

The 100 Hours of Astronomy blog has new entries
Shahin Jafarzadeh answers the question, "How Important are Clear Skies for a (Successful) Public Observing Event?", with ways to have a successful public star party despite clouds coming between you and the stars in

Rick Fienberg as he explains what Galileo proved -- and didn't prove -- through his groundbreaking observations when he saw that "Venus is Just Going Through a Phase".

Alan Dyer describes Canada's very successful effort to get kids excited about IYA2009 by "Inspiring Galileo Moments in Everyone" with special astronomical trading cards.

Don't forget the forum
The 100 Hours of Astronomy forum is a good place to share new ideas, get advice and find answers to your questions about organizing or attending 100 Hours of Astronomy events. http://100hoursofastronomy.org/SMF/

Show your colors
100 Hours of Astronomy store is open for business at Cafe Press at http://www.cafepress.com/100HA . Resources for identification and advertising are available for download on our web site at http://www.100hoursofastronomy.org/all-content but if you want something ready-made Cafe Press will supply it. The artwork used on the Cafe Press items is also available for download in our Resources section so you can have your own merchandise made locally or do it yourself.

Event registration
If your country has its own web site for registering your 100 Hours of Astronomy events don't forget to register on the global web site at www.100hoursofastronomy.org as well. This is where many people will come first and there are several ways for them to find your event. Support your national effort by raising the number of events shown in your country, too, in the new by-country map at http://www.100hoursofastronomy.org/component/eventlist/countriesmap !

Embedding our map on your site
The code to embed our map on your web site is also available at http://www.100hoursofastronomy.org/find-events . You can zoom in to your country, region or city, show the satellite view and anything else that Google Maps can do -- then copy the code for your custom map and include it on your own web site. Instructions show you the way. There is also a kml file available for use with Google Earth.


Search IYA2009 Updates
---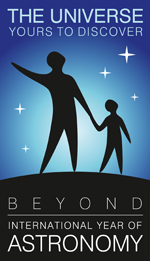 National Nodes: 148
Organisational Nodes: 40
Organisational Associates:33
National Websites: 111
Cornerstone Projects: 12
Special Task Groups: 11
Special Projects:16
Official Products:8
Media Partners:22