Silicon Valley Astronomy Lectures IYA2009 Event Draws almost 900 people to Talk at Foothill College,
16 March 2009
Wednesday, March 4th, over 850 people attended one of the public IYA2009 events planned at Foothill College (near San Francisco), as part of the Silicon Valley Astronomy Lectures, which is this year celebrating its 10th anniversary of bringing free public lectures by noted astronomers to a wide public.

Dr. Steven Beckwith, the recently retired Director of the Space Telescope Science Institute, gave a public talk on "The Dawn of Creation: The First Two Billion Years". There was so much interest from the audience that the evening, planned to last 90 minutes, continued with questions and answers for 2 and a half hours!

The series is jointly sponsored by: the Astronomical Society of the Pacific, the SETI Institute, NASA's Ames Research Center, and the Foothill College Astronomy Program.

For more on the series, see: http://www.astrosociety.org/education/podcast/index.html
and a number of past events are available as podcasts.
Search IYA2009 Updates
---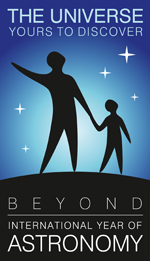 National Nodes: 148
Organisational Nodes: 40
Organisational Associates:33
National Websites: 111
Cornerstone Projects: 12
Special Task Groups: 11
Special Projects:16
Official Products:8
Media Partners:22