IYA2009 Update
20 March 2009
Grants available for IYA2009 projects in Developing Countries

The IAU and UNESCO are pleased to announce a call for grants proposals for IYA2009 projects and activities. If you think you could benefit from these, then be sure to find out more by going to http://www.developingastronomy.org/activities.php
100 hours of Astronomy, 13 days to go!!
100 Hours of Astronomy is around the corner. We would like to call you attention to one of the highest profile activities during the "100 Hours of Astronomy" : "Around the world in 80 telescopes", a live 24-hour broadcast from the largest and most advanced telescopes in the world taking place from 3 April 09:00 UT to 4 April 09:00 UT. We strongly encourage you to contact your partners, science centres, planetaria, bloggers, web media, broadcasters and press to let them know about this event and motivate them to show this program to as many people as possible.
But don't forget all the other events: Opening Event, Live Sceince Centers Webcats, 24-hour Global Star Party and Sun Day!
Stay tuned in the 100 Hours of Astronomy website: www.100hoursofastronomy.org

IYA2009 logo has been blasted off into space!
On 15 March, the Space Shuttle Discovery launched toward the International Space Station. On board was Japanese astronaut and IYA2009 supporter Koichi Wakata. He took with him a special Official Flight Kit prepared by the IYA2009 Japan Committee, proudly displaying the IYA2009 logo. The kit will be brought back to Earth, and displayed in Japan this autumn. For more information, please visit http://www.astronomy2009.jp/ (Japanese) and http://cosmicdiary.org/blogs/jaxa/seiichi_sakamoto/?p=254 (English).
Star Walk: astronomy for everybody
Astronomy software for Apple iPhones are being endorsed by IYA2009. Learn more about Star Walk here: http://www.astronomy2009.org/resources/products/starwalk/
Hawaiian Starlight - exploring the Universe from Mauna Kea
For the International Year of Astronomy 2009, the Canada-France-Hawaii Telescope (CFHT) is releasing a DVD movie about astronomy from Mauna Kea. Click for more information:http://www.cfht.hawaii.edu/HawaiianStarlight/iya09.html andhttp://www.cfht.hawaii.edu/dvd/
NASA celebrates Sun-Earth Day with illuminating webcast
NASA scientists will reveal new information and images about our Sun and its influence on Earth and the Solar System for Sun-Earth Day, recognised each year in conjunction with the spring equinox. The highlight of this year's celebration is a webcast for students and teachers around the world, beginning at 10 a.m. PDT (1 p.m. EDT), Friday, 20 March. For more, go to http://sunearthday.nasa.gov/2009/index.php. For streaming TV go to http://www.nasa.gov/multimedia/nasatv/index.html
ESO Messenger: ESO and the International Year of Astronomy 2009 Opening Ceremony
The European Southern Observatory's contributions to the International Year of Astronomy 2009 and the Opening Ceremony, held in Paris in January 2009, are summarised in the latest ESO Messenger: http://www.eso.org/sci/publications/messenger/archive/no.135-mar09/messenger-no135-54.pdf
Getting astronomers Involved in IYA2009: Astronomer in the Classroom Program
The University of Hawaii Institution for Astronomy and Interstellar Studios will be facilitating the exciting new IYA2009 educational program, Astronomer in the Classroom, starting next month. They need astronomers interested in volunteering three hours for this worthy activity. Could this be you? http://www.astronomerintheclassroom.org/
Special telescope package and online seminar now available
IYA2009 is attracting more people to invest in telescopes to observe the heavens. But buying an instrument is one thing... using it can be quite another! Fortunately, the "Astronomie-Startpaket" is available on Amazon's German site, giving a complete package for budding amateur astronomers. To learn more, please visit: http://www.amazon.de/exec/obidos/ASIN/B001QUBOY4/baaderplanet-21/
Silicon Valley astronomy lectures IYA2009 event draws almost 900 people to talk at Foothill College
Wednesday, March 4th, over 850 people attended one of the public IYA2009 events planned at Foothill College (near San Francisco), as part of the Silicon Valley Astronomy Lectures, which is this year celebrating its 10th anniversary of bringing free public lectures by noted astronomers to a wide public. The series is jointly sponsored by: the Astronomical Society of the Pacific, the SETI Institute, NASA's Ames Research Center, and the Foothill College Astronomy Program. For more on the series, see: http://www.astrosociety.org/education/podcast/index.html and a number of past events are available as podcasts.
DSA: GLOBE at Night 2009: 16-28 March
Once again, people around the world are invited to participate in a citizen-science programme to monitor local light pollution. If you would like to get involved, please visit http://www.globe.gov/GaN/
Search IYA2009 Updates
---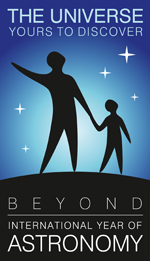 National Nodes: 148
Organisational Nodes: 40
Organisational Associates:33
National Websites: 111
Cornerstone Projects: 12
Special Task Groups: 11
Special Projects:16
Official Products:8
Media Partners:22