Havana Planetarium and Science Centre: International Partnerships for Astronomy Cooperation
20 March 2009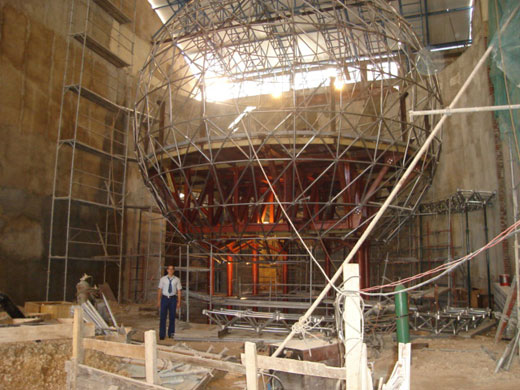 This summer the Cuban Capital, Havana, will open a new planetarium and science centre, the Centro Cultural de Ciencia y Tenologia "Rosa Elena Simeón". The centre is being built as part of the renovation of the Old Town of Havana (Habana Vieja) declared Human Cultural Heritage by UNESCO. This project is managed by astronomer Oscar Alvarez, of the Ministry of Science, Technology, and Environment (CITMA: Ciencia, Tecnologia, y Medio Ambiente), the IYA2009 Single Point of Contact in Cuba.
This new planetarium and cultural centre is the main IYA2009 activity in Cuba and it has long been a dream for Cuban astronomers. But the planetarium will not be an ordinary one; the dome will be a full sphere, with the outside painted to resemble the solar surface when viewed under special illumination, and surrounded by scale models of the planets. Visitors will take a helical ramp to the seating level, and along the way will see images marking a timeline of events in cosmic history, beginning with a vivid representation of the Big Bang.
The new science centre is also an excellent example of international cooperation for development. The Japanese Government is one of the main supporters of the project and has donated funds to buy both the planetarium projector and media system for the cosmic theatre inside the sphere. The Spanish firm Kelonik has been contracted for the interior lighting and sound system in the main hall, which will show a starry background with a realistic sky representation. The University of Alabama, in addition to information-based support, is providing large image prints for the "Powers of 10" exhibit illustrating the cosmic timeline. We have also acted as liaison for an installation of the From Earth to the Universe exhibition which will open the new centre. A selection of 33 images from the exhibition have been produced and carried to Havana in December 2008. These will be followed later in 2009 by the set of large images.
More information:
IYA2009 in Cuba: http://www.astronomy2009.org/organisation/nodes/national/view/CU/
From Earth to the Universe: http://www.fromearthtotheuniverse.org/
University of Alabama and IYA2009 in Cuba: :http://astronomy2009.us/storytelling/2009/02/15/cuba-alabama-and-the-international-year-of-astronomy/
Search IYA2009 Updates
---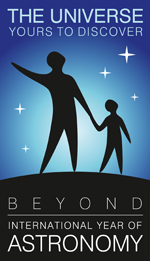 National Nodes: 148
Organisational Nodes: 40
Organisational Associates:33
National Websites: 111
Cornerstone Projects: 12
Special Task Groups: 11
Special Projects:16
Official Products:8
Media Partners:22