StarPeace Update
23 March 2009
This is the first newsletter of StarPeace special global project of International Year of Astronomy 2009.
We will send weekly newsletters containing a digest of news and events in StarPeace project. In addition, we will announce latest news of our International collaborations such as YurisNight project. StarPeace project will connect the beauty of the sky with peace of heavens among all people who admire the sky and peace. So StarPeace Newsletter will cover all the related news about Public Star Parties and Peace projects around the globe.
New Features on StarPeace Website:
How can I participate in StarPeace project? http://www.starpeace.org/En/Participate/Default.aspx
If you are among one of these categories it is our pleasure to have your help in order to reach to StarPeace goals:
FAQ: Do you have any question about StarPeace? Check StarPeace FAQ page: http://www.starpeace.org/En/faq/Default.aspx
International Collaborations: Do you want to participate in projects and programs as like as StarPeace, check this page frequently: http://www.starpeace.org/En/IntlCollab/Default.aspx
YurisNight: This is an exclusive page of YurisNight project in International Collaborations page of StarPeace website: http://www.starpeace.org/En/IntlCollab/YurisNight/Default.aspx
And check StarPeace Updates:
StarPeace Precept in PDF format is available on Multimedia page: http://www.starpeace.org/En/Multimedia/Default.aspx#PreceptStarPeace
Check new StarPeace clubs on: http://www.starpeace.org/En/Clubs/Default.aspx (Now 21 clubs from 18 countries around the world joined StarPeace)
StarPeace on Social Networks:
Latest news and updates on Twitter: http://twitter.com/starpeace
Fascinating animations of IYA2009 on YouTube: http://www.youtube.com/StarPeaceProject
Network of StarPeace colleagues and fans on FaceBook: http://www.facebook.com/group.php?gid=60465787740
Latest News of Public Star/Space Parties around the world:
A World Astronomy Festival: Celebrate the sky and learn about astronomy for 100 hours, from 2-5 April: http://www.starpeace.org/En/News/29/Default.aspx
A World Festival for Space: Celebrate Yuri's Night on Yuri's week, from April 4th- 12th: http://www.starpeace.org/En/News/28/Default.aspx
StarPeace in Media:
Forbes Magazine website: One project, called StarPeace, aims to connect people living on opposite sides of land or sea borders via joint "star parties." http://www.forbes.com/2009/02/26/year-of-astronomy-opinions-contributors_galileo_unesco.html
In Persian:
Iran Newspaper: http://iran-newspaper.com/1387/871021/html/iran.htm#s942393
Quds Newspaper: http://www.qudsdaily.com/archive/1387/html/12/1387-12-20/page18.html#3
Etemaad Newspaper: http://www.etemaad.ir/Released/87-12-10/215.htm
Javan Newspaper: http://www.javannewspaper.com/1387/871110/society.htm
JameJam Newspaper: http://jamejamonline.ir/papertext.aspx?newsnum=100896380369
StarPeace in Blogs:
CosmicDairy: http://cosmicdiary.org/blogs/shashikiran_ganesh/?p=13
100HA, Blog: http://www.100hoursofastronomy.org/blogs/viewpost/138
Kutch Amateur Astronomy Club: http://kutchastronomy.blogspot.com/2009/02/star-peace-program-at-bhuj-with-lahore.html
NGOs (in Persian): http://ngos.blogfa.com/post-52.aspx
DAWN project, blog: http://dawn-iya2009.blogspot.com/2009/01/star-peace-project-iya2009-special.html
StarPeace Recommendations in This Week:
YurisNight 2009: If you are interested in space, if you are one of Yuri's fans, if you want to celebrate the human entrance into space and do something about it, the best way is ahead: The world space party is about to kick off, from 4-12 April; Join them at http://www.yurisnight.net/
100 Hours of Astronomy: It is the biggest astronomy festival! Everyone from around the world is going to celebrate the sky for 100 hours, from 2-5 April. Every astronomer, professional or amateur is involved. Join them at: http://100hoursofastronomy.org/
StarPeace welcomed volunteers to translate this newsletter into their mother tongue. If anyone is volunteer contact we at info@starpeace.org and we will give you every newsletter two days before publishing for translating.
Search IYA2009 Updates
---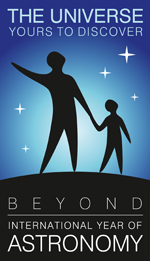 National Nodes: 148
Organisational Nodes: 40
Organisational Associates:33
National Websites: 111
Cornerstone Projects: 12
Special Task Groups: 11
Special Projects:16
Official Products:8
Media Partners:22