International Year of Astronomy 2009 and St Patrick's day
24 March 2009
Astronomy was the theme for St Patrick's day parades in all major cities of Ireland. In Dublin, this year's theme for the festival Parade was 'The Sky's the Limit!'. Over 675,000 people lined the Dublin streets and over six million were watching either live on RTE or through the internet. Thousands of performers and characters joined together in a carnival of dancing and music as they wowed on-lookers with uniquely commissioned original pageants accompanied by marching bands from Ireland and across the globe, with several pageants exploring the link between humanity, astronomy and space. The International Year of Astronomy 2009 was well branded along the length of the entire parade on billboards and in the pageants. In Downpatrick, the highlight of the festival was the famous St Patrick's Cross Community Carnival Parade, which for 2009 embraced the theme of 'The Sun, the Moon and the Stars'.
The Cork Parade, announced by Blackrock Castle Observatory in conjunction with the International Year of Astronomy 2009 in all television, radio and press coverage, saw over 65,000 people celebrating the theme of 'Cosmic Chaos'. Schools, community groups, voluntary and sporting organizations, musical and circus companies joined in the revelries in a riot of colour and astronomical performance! Rockets, robots and radio telescopes vied for space with stars and planets, cosmic serpents, the elements, scientists and lots of little green men. Cork welcomed Professor Michael Redfern, School of Physics, NUI Galway and SPOC and Chair of the Irish committee for IYA2009 in attendance at the Cork St Patrick's Day Parade as Galileo Galilei.
Click here for an online RTE report on the Cork parade.
Click on the above images to see more photographs from this year's St Patrick's day parade in Dublin and Cork.
More information: http://astronomy2009.ie/official_press_releases/iya_2009_Ireland.html
Search IYA2009 Updates
---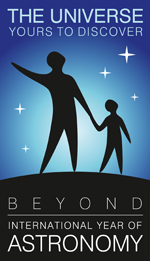 National Nodes: 148
Organisational Nodes: 40
Organisational Associates:33
National Websites: 111
Cornerstone Projects: 12
Special Task Groups: 11
Special Projects:16
Official Products:8
Media Partners:22