Two Small Pieces of Glass - Planetarium Show Update
27 March 2009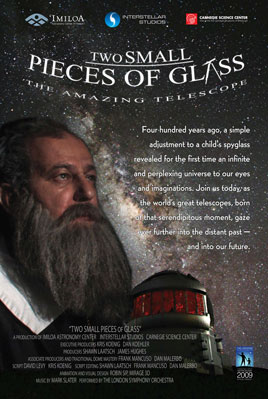 The program was funded by NSF and is being provided to IPS embers courtesy of the production partners (Buhl Planetarium, Imiloa Astronomy Center, and Interstellar Studios).
TRADITIONAL DOME SHOW (FREE)
The DVD's containing contents for the traditional dome show will be burned on Monday, March 30th and will be in the mail to IPS members by Friday, April 3rd.
This process has been a Herculean effort by Buhl Planetarium staff members James Hughes and Frank Mancuso who converted the full dome show to a traditional one in about a 6 week process. Special thanks is due them for their efforts.
DIGITAL FULL DOME SHOW ($350)
Drives for the digital full dome show started shipping on Monday, March 23rd. An email with the required license agreement was sent out to folks who signed up online for the program on February 23rd. The cost of the hard drive is $350. Note the content is FREE, but the hard drives are cost recovery (drive, shipping, duplication labor, etc.). If you need the licensing agreement, contact me or James and we can email you the pdf document.
To get the content you must return the licensing agreement to James Hughes at Buhl Planetarium/Carnegie Science Center (hughesj@carnegiesciencecenter.org). James is also the contact for payment information regarding the drives. If you have questions regarding when your drive shipped or will ship, please contact James. In Africa, Europe or the Middle East contact Robin Sip rsip@mirage3d.nl) or (robinm3d@gmail.com).
Vendors have been contacted and several will be able to provide it as well to their customers. Customers will still need to complete the license agreement and send it to James Hughes.
We hope you enjoy the program and that you are able to use it for years to come. If you have any additional questions, please feel free to contact me, James Hughes or Robin Sip.
Shawn Laatsch
Planetarium Manager & IPS Treasurer
Imiloa Astronomy Center of Hawaii
600 Imiloa Place
Hilo, HI 96720
Ph. +1 (808) 969-9735
Fax +1 (808) 969-9748
Email: slaatsch@imiloahawaii.org
James Hughes
Buhl Planetarium and Observatory at Carnegie Science Center
Email: hughesj@carnegiesciencecenter.org
Ph. +1 412-237-3348
Robin Sip
Mirage3D
Ph. +31 70 3457500
Email: rsip@mirage3d.nl or robinm3d@gmail.com
More information: http://www.400years.org/planetarium_program/two_small_pieces_of_glass.php
Search IYA2009 Updates
---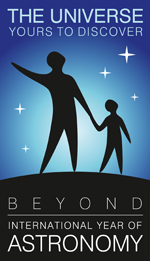 National Nodes: 148
Organisational Nodes: 40
Organisational Associates:33
National Websites: 111
Cornerstone Projects: 12
Special Task Groups: 11
Special Projects:16
Official Products:8
Media Partners:22