StarPeace Newsletter
7 April 2009
New Features on StarPeace Website:
StarPeace Precept: Do you want to know how a StarPeace event is organized? Do you wonder if your group could handle a StarPeace public star party and want to know the instruction? Read StarPeace Precept of holding a public star party.
StarPeace Newsletters: You can find StarPeace Newsletters Archive in the website.
Latest StarPeace News around the world:
Now StarPeace has participants from all continents except Antarctica! To check StarPeace clubs on 6 continents go to http://www.starpeace.org/En/Clubs/Default.aspx
StarPeace on Social Networks:
Latest news and updates on Twitter: http://twitter.com/starpeace
"Can amateur astronomers promote peace in the world?" Join StarPeace Discussion Board on FaceBook.
Latest news of Public Star/Space Parties around the world:
100 Hours of Astronomy held successfully and marvelously between 2-5 April. Each day of this Worldwide Astronomy Festival had a picture on Astronomy Picture of the Day website: 100 Hours of Astronomy Begins, Around the World in 80 Telescopes, Star Party on Planet Earth and Orange Sun Oozing.
Around 180,000 people from all around the world watched 100 Hours of Astronomy webcasts on Ustream.tv .
StarPeace in Media:
FETTU Cornerstone Project website: Watch photos from StarPeace "From Earth to the Universe" astronomy exhibition in Iran: http://www.fromearthtotheuniverse.org/event_photos.php#Iran
L'Astrofilo (marzo 2009) talked about IYA2009 projects in Italian: http://www.unipd.it/astro2009/rassegna/20090301-LAstrofilo.pdf
Irpedia: StarPeace Project, connecting people by the sky : http://www.irpedia.com/iran-news/1025/
StarPeace Recommendation in this week:
Yuri's week 2009 has just begun! Yuri's Night is a celebration of humanity's achievements in space. This year, Yuri's Night parties are held from April 4th-12th. People all around the world are celebrating Yuri's Night; read Party News. 41 countries joined Yuri's Night 2009; to find Yuri's Night events in your region check the Party List or Party Map.
Useful information and web links about Yuri Gagarin are available in StarPeace website.
StarPeace welcomed volunteers to translate this newsletter into other languages. If anyone is volunteer contact us at info@starpeace.org and we will give you every newsletter two days before publishing for translating.
Search IYA2009 Updates
---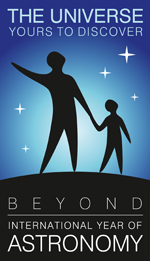 National Nodes: 148
Organisational Nodes: 40
Organisational Associates:33
National Websites: 111
Cornerstone Projects: 12
Special Task Groups: 11
Special Projects:16
Official Products:8
Media Partners:22