100 Hours of Astronomy Update
8 April 2009
The 100 Hours of Astronomy celebration events between April 2 - 5, have come to an end and what an amazing success story it has been! We all managed to highlight the wonders of astronomy to millions of global citizens through the use of our telescopes, live webcams of major research observatories, science centres and our enduring passion for this great science. The 100HA team still has a great deal to do before we sign off on this celebration and head towards our next exciting astronomical venture.
100 Hours of Astronomy Online Event Report We encourage you all to file an event report on your 100HA event/s. This is an online report form and is easily completed. It can be saved as a PDF file and used for your personal records or most importantly as part of your application process to our 100HA awards and prizes. The use of the information we gather from your events will give us an idea of how many people the 100HA celebration reached and how successful it was. To complete an event report, your event must be registered on our website. If you have not had the time to do so, please register over the next two weeks. Once registered, your event report can be completed and submitted. To register an event please click here http://www.100hoursofastronomy.org/component/eventlist/editevent To see a full set of "How to" instructions for filing your report, please click here http://www.100hoursofastronomy.org/eventsmain
100 Hours of Astronomy Participation Certificate We are pleased to announce the availability of a downloadable 100 Hours of Astronomy Participation Certificate for all registered events on our website. Once you have completed your online event report a link for downloading your Participation Certificate will be available.
100 Hours of Astronomy Photo Gallery The photo gallery has been a huge success and it is a great way to see everyone's 100HA events around the world, without actually being there. We encourage you all to upload your images, but wish to advise that there is a limit on the number of pictures you can upload - no more than 20MB per gallery with a 500k image size, the smaller the file size (resolution) the more pictures you can post. Only one gallery is permitted per registered group. This will ensure we have plenty of server space to offer all registered 100HA groups the opportunity to showcase their events. http://www.100hoursofastronomy.org/photo-galleries/create-your-gallery Please note: "Unpublished" pictures that have not been deleted count against the size of your gallery, even if they are not visible. These images are still on the server whether published (made visible) or not.
Search IYA2009 Updates
---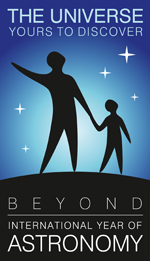 National Nodes: 148
Organisational Nodes: 40
Organisational Associates:33
National Websites: 111
Cornerstone Projects: 12
Special Task Groups: 11
Special Projects:16
Official Products:8
Media Partners:22