IYA2009 news round-up!
10 April 2009
The 100 Hours of Astronomy project is over. Phew! But it will have a lasting effect far into the future. Videos from the "Around the World in 80 Telescopes" are currently online for all to see. There were three Cosmic Diary LiveBlogs run during the event, which are still available to read. The 100HA Blog is also a great place to get more information, and for lots of photos, click here and here.
Parkes Champion Post has reported on 100HA from an Australian perspective, Tuscalooso News for the USA, The Hindu for India, and many others are on the web too. Sites such as WBBM News Radio 780, SpaceRef.com, and SpaceDaily are also headlining 100HA. And congratulations to the Galaxy Zoo Project, which had an incredible 2.6 million classifications.
But it wasn't just 100HA that was in the news. Radio Netherlands Worldwide has featured an article written by IYA2009-mainstay Kevin Govendar. He talks about the relevance of astronomy to developing countries, and describes the success story of SALT, the South African Large Telescope.
Over to Pakistan, where Science and Religion has a nicely-written account of IYA2009 events in that part of the world. Plenty of hyperlinks have been dotted around and there is also a generous portion of photos, which always helps.
The Pink Elephant describes an aim of IYA2009 as offering as many people as possible a "Galileo moment". These engaging astronomy experiences have the ability to change lives, and the theme is developed in the article, with focus on events for Canadians.
Plus Maths Magazine is running an online poll where the public can vote for a question to be answered by top astronomers. So if you'd like to know what the future of the Universe is, what black holes are, or if the constants of nature are really constant, go there and vote! Or use Google.
And finally, EC Plaza News has been highlighting IYA2009 activities in Korea, including the Kumdori Science Festival 2009, From Earth To The Universe exhibitions, and the 60th International Astronautical Congress. In December there are even plans to plant a time capsule containing present information about astronomy, to be unearthed in 2019. Maybe these weekly round-ups should be included?
Lee Pullen
IYA2009 Staff Writer
Search IYA2009 Updates
---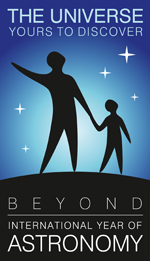 National Nodes: 148
Organisational Nodes: 40
Organisational Associates:33
National Websites: 111
Cornerstone Projects: 12
Special Task Groups: 11
Special Projects:16
Official Products:8
Media Partners:22