MEDEA Awards 2009
15 April 2009
Entries Welcome to the MEDEA Awards 2009
The call for entries to the MEDEA Awards 2009 was officially announced today. The aim of this competition is to encourage innovation and good practice in the use of media and video in education. The MEDEA Awards recognise and promote excellence in the production and pedagogical design of media-rich learning resources at all levels of education, and highlight good practice in the use of media and video in the classroom. Last year the awards received over 100 high-quality submissions from 25 different countries, of which 6 winners were selected who all received prizes of hard and software generously supplied by Apple Europe and Adobe. The Organising Committee is proud to announce that this year the annual MEDEA Awards have expanded with two new awards, the MEDEA Award for Creativity and Innovation and the European Collaboration Award. The MEDEA Award for Creativity and Innovation is set up to coincide with the European Year of Creativity and Innovation 2009 and will specifically award creative and innovative use of media by educators and learners. The European Collaboration Award in educational media production and use will recognise excellent productions and projects that come about as a result of European cross-border collaboration.
Details for Participants
Everyone who produces video, audio and/or multimedia based learning and teaching materials is invited to submit an entry to the MEDEA Awards. The main criteria for entry is that the multimedia project, production or service submitted must make use of images and/or sound to support teaching and learning. Entries by teachers and learners are particularly welcome. Participants can track the progress of their entries on the new web site recently launched by the MEDEA Secretariat which will be available in German and French shortly. This call for entries closes on Wednesday 30th September 2009, 12 PM, by which all the required materials have to be sent to the MEDEA Secretariat.
Contact MEDEA
To find out more about the awards or to subscribe to our newsletter, visit the web site:
http://www.medea-awards.com For information regarding participation, becoming a judge, partnering, sponsoring or collaborating with the MEDEA Organising Committee, please contact Nikki Cortoos of the MEDEA Secretariat: Nikki Cortoos, MEDEA Secretariat
E-mail: secretariat@medea-awards.com
Address: Nikki Cortoos, MEDEA Secretariat, ATiT, Leuvensesteenweg 132, B-3370 Roosbeek, Belgium
Tel: +32 16 284 040, Fax: +32 16 223 743
Search IYA2009 Updates
---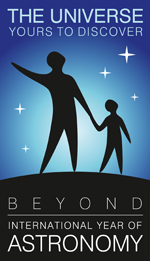 National Nodes: 148
Organisational Nodes: 40
Organisational Associates:33
National Websites: 111
Cornerstone Projects: 12
Special Task Groups: 11
Special Projects:16
Official Products:8
Media Partners:22