IYA2009 news round-up, 24 April
24 April 2009
IYA2009 news round-up, 24 April
Question: what is the best thing about Fridays?
Answer: the IYA2009 news round-ups, of course!
We'll begin our journey in the UK, as Somerset Stargazer (and top bloke) Ben Wilkes has been flying the flag for IYA2009, says the Weston and Somerset Mercury. Ben is working to get a 19-inch telescope plonked atop the Mendip hills up and running, and is also hosting astronomy events for beginners. Ben, the IYA2009 team salutes you!
More public events are being organised by the University of New Hampshire's Physics Department, according to ECEBlogger. Lectures from staff and students will be taking place once a month, with the next one being on 16 May. Clear your diary, ok?
Den News was present for a University of Wisconsin-Madison public lecture which, by their account, was very successful. The enthusiasm of the presentation comes across in the write-up, and it also contains a memorable quote from an art professor: "Anyone who can explain astrophysics to an art major isn't too bad."
Another noteworthy article about an outreach event comes courtesy of the Iosco County News Herald (United States). Plans were to observe the cosmos using a 25-inch Dobsonian telescope nicknamed "DobZilla", but cloud defeated this beast. Instead, a lecture, meteorite collection, and discussions on varied topics from life in the Universe to light pollution kept people entertained. The event was hosted by the Iosco-Arenac District Library, Great Lakes Star Gaze, and Sunset Astronomical Society (SAS) who should not be confused with Britain's elite counter-terrorism force the Special Air Service, with whom they share the acronym.
The Portal To The Universe has been released! This IYA2009 Cornerstone Project acts as a one-stop-shop for astronomy news and content. Space Ref and YubaNet.com have posted the press release as way of a synopsis and Cosmic Diary blogger Sotira was there for the launch. YubaNet.com get another mention this week, as they've also posted the She Is An Astronomer release. Thanks, YubaNet.com. redOrbit have performed a similar service.
Next, Press TV reports that Iranian astronomers are planning on holding a public star party near the Iran-Pakistan border, as part of the StarPeace project. The article says astronomers will set up in Goatr village in Chabahar on the coast of the Gulf of Oman on 1May, 2009. A group of amateurs will also hold a star party in Pakistan's Gwadar Port.
Are you poor? If so, no need to fret. The Daily Record has suggestions for free family fun activities, with astronomy coming in at number two, being beaten only by "Hike, bike or picnic". I would choose "picnic".
That's all for now, which means you can start looking forward to next week's news round-up!
Lee Pullen
IYA2009 Staff Writer
Search IYA2009 Updates
---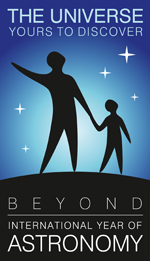 National Nodes: 148
Organisational Nodes: 40
Organisational Associates:33
National Websites: 111
Cornerstone Projects: 12
Special Task Groups: 11
Special Projects:16
Official Products:8
Media Partners:22