Science Education and Outreach: Forging a Path to the Future
27 April 2009
Science Education and Outreach: Forging a Path to the Future
The 120th Anniversary Meeting of the Astronomical Society of the Pacific
September 12 - 16, 2009
Westin San Francisco Airport Hotel, Millbrae, California


Registration is now open and abstracts are being accepted! You can submit abstracts for 90-minute sessions, 10-minute oral papers, or poster papers on a wide range of topics in space-science and earth-science education and outreach. A proceedings volume will be published as part of the Astronomical Society of the Pacific Conference series.

The meeting symposium begins on Sunday evening, September 13, with the annual members' meeting and the opening reception. Meeting sessions begin on Monday, September 14, with the annual awards banquet held on Tuesday evening, September 15. The meeting will conclude the early evening of Wednesday, September 16.

The meeting will be preceded by hands-on workshops for K-14 and informal science educators scheduled on Saturday and Sunday, September 12-13, together with a Sunday afternoon series of nontechnical talks on the search for life beyond Earth presented by leading scientists from the SETI Institute.

Go to: http://www.astrosociety.org/events/meeting.html
to find information and details on hotel reservations, meeting registration, exhibiting, submitting poster and presentation abstracts, and submitting proceedings write-ups. Be sure to sign up to receive more information and meeting alerts, and check back frequently as new information is added.

Thanks to the generosity of the Spitzer Science Center, a limited number of $300 stipends will be available to K-12 educators who need additional support to attend the weekend and/or the meeting. Specific instructions will be posted soon on the above web site.

Please join us in September in the beautiful San Francisco Bay Area, during the International Year of Astronomy, the International Year of Science, and the 120th anniversary of the founding of the Astronomical Society of the Pacific, as we look forward and consider how, working together, we can advance a future of science literacy.
Search IYA2009 Updates
---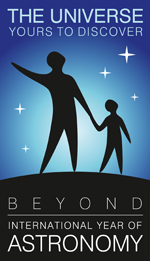 National Nodes: 148
Organisational Nodes: 40
Organisational Associates:33
National Websites: 111
Cornerstone Projects: 12
Special Task Groups: 11
Special Projects:16
Official Products:8
Media Partners:22