A CIRCLE OF PEACE: StarPeace builds bridges between four countries.
4 May 2009
To promote the universality of the heavens, astronomers from 4 countries across Asia held a simultaneous public stargazing party on the night of May 1, 2009 under the aegis of Starpeace. 2009 has been declared as the International Year of Astronomy (IYA) by UNESCO, and Starpeace is a special project of the IYA, promoting peace and harmony by holding synchronised star parties for the public all over the world.
The participating countries were Oman where Dr. Saleh Said Al-Shidhani organized the StarPeace party in Muscat. In Iran, StarPeace Members observed in Pasabandar, a coastal village in Southeast of Iran. In Pakistan, Khalid Marwat held a stargazing night for people in Karachi harbor while the Society of the Sun organized a public star party at the PIA Planetarium in Lahore. On the other side of the border, Manoj Pai from Delhi and Narendra Sagar Gor from Bhuj observed the heavens in sync with their counterparts.
In Lahore, visitors to the Planetarium and members of the public were treated to fantastic views of the planet Saturn and the Moon. For the first time, hundreds of people were able to see the rings of Saturn and its moon, Titan. People were also mesmerised by views of craters on the Earth's Moon and the seas of solidified lava which are not discernible to the unaided eye. The astronomers who fascinated the public with views of the heavens were Maroof Mian (6" telecope), Behzad Anwar (4.5" telescope) and Umair Asim (14" telescope), the latter being the largest telescope in Lahore.
During the event, Hassaan Ghazali from the Society of the Sun led the exchange of greetings with counterpart astronomers over the phone. A message of peace from a group of enthusiastic children from SOS children's villages was relayed to them. The message was three simple words uttered by every Pakistani, every day--"We Want Peace!"
The real face of our Earth has no borders on it, just like the sky above us. In times of such geo-political turmoil in the region, events like Starpeace build bridges between nations which are united under the same sky. Omani, Iranian, Pakistani and Indian astronomers show that astronomy breaks down borders and instills a sense of oneness amongst society.
Search IYA2009 Updates
---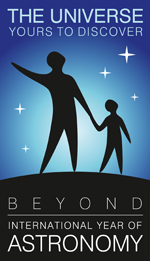 National Nodes: 148
Organisational Nodes: 40
Organisational Associates:33
National Websites: 111
Cornerstone Projects: 12
Special Task Groups: 11
Special Projects:16
Official Products:8
Media Partners:22