Smithsonian Photography Initiative Celebrates IYA2009
5 May 2009
During May and June, the Smithsonian Photography Initiative offers three ways to celebrate both the International Year of Astronomy and the 400th anniversary of the first recorded astronomical observation with a telescope by Galileo Galilei.
Call for Entries
The Smithsonian Photography Initiative invites the public to contribute images and stories to "click! photography changes everything" (http://click.si.edu), an online exhibit that explores how photography influences every aspect of people's lives. This month's focus is "Seeing Other Worlds":
Blog Interaction
Visit the Smithsonian's photography blog, "THE BIGGER PICTURE" at http://blog.photography.si.edu, which presents an inside look at the Smithsonian's photography collections and invites audiences to engage in an online discussion with guest contributors from the Smithsonian about photography's powerful impact on the world. Throughout May and June, the blog discussions will focus on photography, astronomy and the broader notion of exploring "other worlds" to celebrate the beginning of the International Year of Astronomy. Guest bloggers will include staff from the National Museum of American History's, National Air and Space, Smithsonian magazine and the Smithsonian Astrophysical Observatory.
Visit Flickr Commons
In honor of the International Year of Astronomy, new images are being added to the Smithsonian Institution's photostream at The Commons on Flickr. The Chandra X-ray Observatory set features images made by NASA's Chandra X-ray Observatory, which was launched and deployed by the Space Shuttle Columbia July 23, 1999, and is the most sophisticated X-ray observatory built to date. Chandra has the largest, most-precisely shaped and aligned and smoothest mirrors ever constructed. It is helping scientists better understand the hot, turbulent regions of space and answer fundamental questions about origin, evolution and destiny of the universe. Chandra's images are 25 times sharper than the best previous X-ray telescope. NASA's Marshall Space Flight Center in Huntsville, Ala., manages the Chandra program for NASA's Science Mission Directorate in Washington, D.C. The Smithsonian Astrophysical Observatory controls Chandra science and flight operations from the Chandra X-ray Center in Cambridge, Mass.
About the Smithsonian Photography Initiative
The Smithsonian Photography Initiative exists to increase public understanding of the photography collections from the Smithsonian's museums, research centers and the National Zoo. Leveraging emerging new media, SPI seeks to create new opportunities for research and scholarship about the cultural impact of photographs. Through interactive online exhibitions, publications and educational outreach, SPI is dedicated to engaging new and existing Smithsonian audiences in a dialogue about the nature and meaning of images today.
Search IYA2009 Updates
---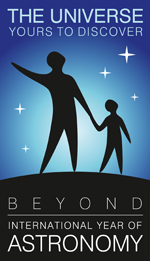 National Nodes: 148
Organisational Nodes: 40
Organisational Associates:33
National Websites: 111
Cornerstone Projects: 12
Special Task Groups: 11
Special Projects:16
Official Products:8
Media Partners:22