Newsletter to SPoCs - IYA2009 Questionnaire, Products and Projects
29 August 2008
Dear SpoCs and Chairs,
The IYA2009 newsletter for this week:
Organisational Matters
The IYA2009 is still growing: we have 122 National Nodes and we would like to take this opportunity to welcome Lebanon, our new National Node, to the IYA2009.


IYA2009 Questionnaire to SPoCs
With our latest newsletter we sent you a questionnaire that we would very much like you to send back to us as soon as possible. We will make a report based on your replies and present it to the IAU/IYA2009 Executive Committee Working group. After that, we will share the results with you as well.
Those of you who still haven't sent their replies, please do so as soon as possible, until the 15th of September. We will not accept more replies after that date. If you need, you can find the questionnaire attached, or simply follow this link: http://www.astronomy2009.org/files/Spocs_questionnaires.doc


IYA2009 Products
The IYA2009 Secretariat would like to advertise some resources that provide excellent opportunities for SPoCs and stakeholders. These products of undeniable quality can easily be adapted to your language and needs, and used to enhance your activities. The Secretariat will make them available to you at very attractive prices and it is up to you to find a way to take advantage of this unique business and/or communication opportunity. More information: http://www.astronomy2009.org/resources-mainmenu-47/products.html
We have a new product, the IYA2009 Planisphere:
These are standard and customised planispheres or starfinders. You can have your own planisphere, in your language you , for the latitude you want and in the colours, design, size and number you like. That is now possible and you can have the perfect planisphere for your IYA2009 activities. http://www.astronomy2009.org/files/reports/IYA2009_Planispheres.pdf
For more information, please visit http://www.astronomy2009.org/resources-mainmenu-47/products.html

IYA2009 Cornerstone Projects
100 Hours of Astronomy:
The 100 Hours of Astronomy Cornerstone project has a new web site – www.100hoursofastronomy.org – where information will be available on all the plans for this exciting event. 100 Hours of Astronomy is a round-the-clock, worldwide event with 100 continuous hours of a wide range of public outreach activities during a four-day period, 2 – 5 April 2009. A new mailing list for the project – open to all – will provide regular updates on plans and developments. There are many exciting ideas to be announced soon!
There are some great activities planned. A 24-hour webcast from research observatories around the world, including live broadcasts, will give the public an insider's look at the world's greatest telescopes. A 24-hour global star party – the biggest astronomical event in history – will invite everyone to join in the celebration. And it all starts with the inspiration for IYA2009 – the telescope that Galileo used for his historic observations 400 years ago, live from a gala opening event. Schools, science centres, planetariums, astronomy clubs and more are joining in. The newweb site will be the centre of activity for announcements, plans and discussions, all coming soon and building towards the big event.
Universe Awareness:
Dear all,

Ever wanted to answer a kid asking how much they would weigh on another planet? Or what the phase of the Moon is right now?

Following demand from Universe Awareness communities we have started a website of simple astronomy tools:

http://www.unawe.org/unawe_tools/

These are small useful reference items such as scaling the Solar System to any reference (distance or diameter), calculating telescopic magnification, observing the libration of the moon, etc. intended for all kinds of astronomy outreach. The idea is to complement reference sheets like the Astroguide (http://astronomy2009.saao.ac.za/projects/astroguide/) with something dynamic.

Feel free to use these and send us any feedback, bugs, feature requests, etc. You can send us an e-mail directly at carolina.odman@unawe.org or use the online feedback form on the website.

We hope this is useful!

Cheers,

Carolina
Upcoming IYA2009 meetings and events:
· JENAM2008 (Wien, Austria) - 8-12 September 2008 - http://www.univie.ac.at/jenam2008/ or http://www.roe.ac.uk/ukatc/test/symposium.html
· IYA2009 Opening Event, 15-16 January 2008 - http://www.astronomy2009.fr/opening
If you have any questions, please don't hesitate to contact us.

Kind regards,
Pedro and Mariana
IYA2009 Secretariat
Search IYA2009 Updates
---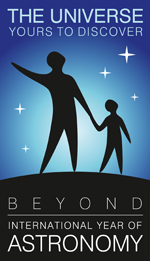 National Nodes: 148
Organisational Nodes: 40
Organisational Associates:33
National Websites: 111
Cornerstone Projects: 12
Special Task Groups: 11
Special Projects:16
Official Products:8
Media Partners:22