AAS PRESS CONFERENCE: IYA2009 Update
9 June 2009
AAS PRESS CONFERENCE, TUESDAY, JUNE 9, 2009, 10:30 a.m. PDT:
INTERNATIONAL YEAR OF ASTRONOMY 2009 US UPDATE
Information on how off-site reporters can participate in the briefing via Internet.
Internet Slidecast: Point your Web browser to http://aas214.showmaestro.com/press/ You must have a current version of QuickTime, available free on the Apple Computer website (http://www.apple.com/quicktime/), to view the slidecast. There is no audio with the slidecast; for audio, dial in to the conference call.

Live Webcast: It may also be possible to watch a live webcast (including both audio and video) of the press conference at http://www.ustream.tv/channel/astronomy-cast-live-press-conference-coverage/ However, the legibility of slides and other presentation graphics may be better on the slidecast. The AAS is not responsible for the webcast but encourages it and gratefully acknowledges the staff of Astronomy Cast for producing it. To ask questions during the conference call/slidecast/webcast, wait until prompted by the chair of the briefing, or (to ensure that your question will be taken and also to report problems with the audio, slidecast, or webcast) send your question or comment during the briefing to BOTH Rick Fienberg and Inge Heyer at the addresses rick.fienberg@aas.org and heyer@aas.org. (Only one of these addresses will be monitored during any given briefing.) The press conferences will not be archived.
Search IYA2009 Updates
---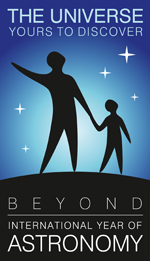 National Nodes: 148
Organisational Nodes: 40
Organisational Associates:33
National Websites: 111
Cornerstone Projects: 12
Special Task Groups: 11
Special Projects:16
Official Products:8
Media Partners:22