News round-up, 12 June 2009
12 June 2009
News round-up, 12 June 2009
Batten down the hatches, news is upon us!
CITIZEN ASTRONOMERS UNITE is the rallying call of a superlative article from Cosmic Log about how "regular folks" can get involved in IYA2009. The comprehensive and hyperlink-laden feature lists projects and events, from the Galileoscope to kooky favourite Second Life. The comments section at the bottom of the page is also worth a look, as people highlight a few things that were missed in the main text. The IYA2009 Secretariat hereby declares the article to be required reading.
What's this then, EurekAlert? Looks like an astronomer has been championing the use of solar eclipses to solve modern problems. Nature journal has made his work the cover story of the latest issue, as part of its IYA2009 coverage. The accompanying image would look lovely hanging on the wall. See to that, please.
ABC 7 News from Chicago has an article about amateur astronomers getting involved in telescopic observations during IYA2009. It even includes a VIDEO where two presenters interview an enthusiast about his hobby. You have to feel for him, especially when at 01:49 a presenter asks if you need a "really strong microscope" to observe Saturn.
Now let's run as fast as our feet will carry us toward IYA2009 mainstay Astronomy Now, who have posted an article marrying the popular topics Galaxy Zoo and 100 Hours of Astronomy. The Zoo project is all about involving the public in scientific work by asking people to classify images of galaxies. For 100HA the aim was to analyse one million, but they smashed this and actually classified 2.5 million. Shall we steal a quote from the article? "With the Zoo 2 target of 40 million classifications in sight, participants in this IYA project will soon truly have made the Universe theirs to discover," says project principal investigator Chris Lintott. Thanks, Chris and Astronomy Now.
Attention! Galileo Teacher Training Program incoming! redOrbit has details about this new Cornerstone project, and how it will help teachers to successfully bring astronomy into the curriculum.
Astronomy in Mozambique may be on the rise, according to a SpaceRef.com report. As a proposed host for a future Square Kilometre Array and an active country in IYA2009 events, there has been a strong drive to create an astronomy university department. Says the article, Mozambique lacks funds but possesses a strong will. Good luck, Mozambique: "Descobre o teu Universo!"
Snippet time! Science Careers has an interview with astronomer Maggie Aderin-Pocock, supporting She Is An Astronomer's aims of promoting gender equality. 4NI.co.uk informs us that Belfast's Lord Mayor is encouraging people to get involved with IYA2009 activities by supporting a carnival with the theme "look up", to mark this special year. And Whyy.org has a lovely audio feature about our Sun and IYA2009.
Surely that's enough news to keep you going until next Friday?
Search IYA2009 Updates
---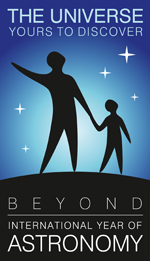 National Nodes: 148
Organisational Nodes: 40
Organisational Associates:33
National Websites: 111
Cornerstone Projects: 12
Special Task Groups: 11
Special Projects:16
Official Products:8
Media Partners:22