Stars for Global Peace
23 June 2009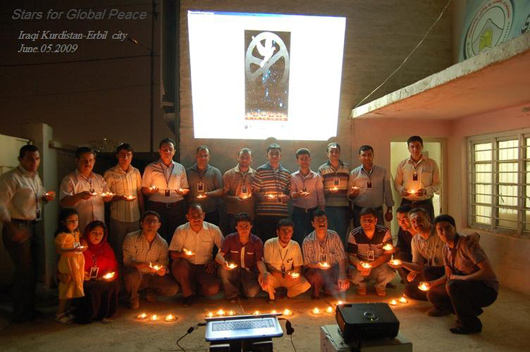 This is the message of Azhy Hasan, StarPeace Iraqi ambassador for StarPeace event on June 5:
"Away from terror, away from violence, from breaking hearts, there was no differences between Iraq and Iran, between India and Uruguay, there was no distances between New Zeeland and Brazil, here we are united again against all old minds and narrow thinkers, We are here to proving that all of us has his own right to live and dream with a peaceful Earth, that we are humans under the same sky and breathing the same air, Muslims, Christians, Indus, Jewish, Buda, even unbelievers are gathered at that night to send to all the globe a massage which was:
We are the World, we are the mixed color of peace, friendship and love, we are the symbol of long time missed brotherhood, we are black and white, red and yellow, We are North and South, East and West, we are the symbol of free peoples without borders, without thinking of language or religion, we are peace makers, tears erasers, smile painters, we are belong to one Creature, who created the only green planet around the Sun, we are really bounder breakers, we vanishes hate between us, we are together to terminating terror, to erasing thinking of revenge, we was there to signing on our truce of forever friendship and love. And we make it when the sparkling of several candles mixed with thousands of the star light at that glory night all around the world.
Peace, friendship, From All Iraqi people in these hardest days of them life to all of you after a fabulous event of Stars for Global Peace on June.05.2009 at 09:00 PM (21:00 UT)"
June 5, World Environmental Day, was a memorable day for all StarPeace friends. StarPeace colleagues from all around the world, from Brazil to Uruguay, Iraq, Iran, Pakistan, India, Nepal and New Zealand, broke the artificial Earth borders with three key words: Sky, Peace, and Environment.
In Brazil, Marcelo de Oliveira Souza, from Louis Cruls Astronomy Club, Campos dos Goytacazes, Rio de Janeiro held the StarPeace event. TV News transmitted live the event for more than 40 cities. As Marcelo said, "the event was a big success." They talked with Andrea Sanchez in Uruguay and Mohammad Torabi in Iran from the public square.
In Iraq, although the weather was dusty, Azhy Hasan from Amateur Astronomers Association of Kurdistan(AAAK) held the StarPeace event in Kurdistan of Iraq. They light candles under star lights!
Due to holiday in Iran on June 5, Iranian StarPeace team, Sky Peace Non-Profit Non-Governmental Organization held the event on June 6 in the observatory of Science and Astronomy Center of Tehran. StarPeace team with the help of Plan for Land environmental society organized lectures about environment, astronomy and peace including a lecture by two Iranian cyclists who cycling around the world for peace and environmental conservation. At the end the group planted an olive tree with the message of peace on observatory's yard.
In Pakistan, Hassan Ghazali from Society of the Sun with the help of Umair Asim hosted members of the general public and special invitees from the SOS Children's Villages and the Sharif Educational Complex at the PIA Planetarium in Lahore. They held lectures about life on Earth and nature of other planets. After the lecture, the lights for peace were lit at the Planetarium Globe and messages of peace were shared between the participants. At the end the observation session had been held.
In India, Sumarasar village, a rural area near Bhuj, Narendra Sagar Gor from Kutch Amateur Astronomy club held the StarPeace event. Narendra said: "This was the first time program in the history of the village". More than 500 people joined the program from Bhuj and Gandhidham. Live chatting and telephone conferencing was made between Pakistan and Iran.
In Nepal, Jayanta Acharya, SPoC and Chair International Year of Astronomy 2009 in Nepal with the help of Suresh Bhattarai from Astronomical Society of Nepal held a star party with around 50 students and discussion sessions about environment and pollution, peace and astronomy relations. They also formed an Eco Club with 10 students from Class 4 to Class 10.
Also Andrea Sanchez in Uruguay, Manoj Pai in Ahmedabad, India from Astronomy Club Ahmedabad and Paul Moss in New Zealand from SKY (Southern Kaitiaki and You) celebrated World Environmental Day and borderless sky by holding star parties and lighting candles under star lights.
Stars for Global Peace event was supported by StarPeace, Astronomers Without Borders and UNAWE program.
Search IYA2009 Updates
---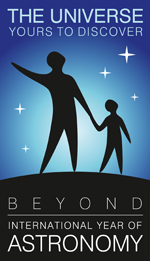 National Nodes: 148
Organisational Nodes: 40
Organisational Associates:33
National Websites: 111
Cornerstone Projects: 12
Special Task Groups: 11
Special Projects:16
Official Products:8
Media Partners:22