3 large Dark Skies Awareness Projects
26 June 2009
Brazil's Citizen-Science Milky Way Marathon
Brazil is holding a "Milky Way Marathon" - a national star-hunting citizen-science campaign that serves as a reminder that the Milky Way is becoming less and less known by Brazilians as a result of increasing light pollution in the country.
The star-hunting campaign is called "Que nota você daria ao céu de sua cidade?" which stands for "How would you rate the sky of your hometown?". For each of the months from June to September, during the week from New Moon to First Quarter, people are asked what kind of "grade" they would give to measure the quality of their local skies. The grades go from 0 (no stars at all) to 7 (a perfect sky). A lower grade represents a sky with more light pollution.
To make the Milky Way Marathon a success, the whole amateur astronomy community in Brazil is communicating through a network of "nodes". This has brought together a collaboration between amateurs and professionals, working together for IYA2009. One of the results of that effort was recently seen during the 100 Hours of Astronomy - Brazil was the second country worldwide as far as the number of events (second only to the USA).
There is some more information at http://www.astronomia2009.org.br/. There is also a presentation in Portuguese (http://www.darkskiesawareness.org/files/Maratona%20da%20Via%20Lactea.pdf), containing instructions on how to participate in the campaign.
Hong Kong Dims the Light Fantastic
Green activists have claimed a victory in their battle against light pollution, saying the sky above Victoria Harbor in Hong Kong was 60 per cent darker than normal last night during the two-hour Dim It Brighten Up campaign on June 21, 2009. In the first Dim It campaign last year about 140 buildings took part, making Victoria Harbor 32 per cent dimmer than usual, according to the organizers, the Friends of the Earth. June 21 was chosen because it is the summer solstice and marks the start of peak electricity usage.
More than 3,500 buildings and organizations in the city turned their lights off at 8pm for 2 hours as part of an attempt to raise public awareness of light pollution and energy conservation. Organizers set up 100 telescopes to let people look at the stars. Over 50,000 people participated, counted down for the light off event and looked through the telescopes. More than 1000 people signed the "Dark Sky Declaration", a charter to encourage building owners to switch off lights on exterior walls by midnight.
More information and photograhs are on the IYA2009 webpage for Hong Kong: http://www.astronomy2009.hk/activities/DarkSky/621.php.
Japan's Candle Night
Japan's Candle Night initiative simply suggests that people switch off their lights for two hours, from 8:00 to 10:00 p.m. on the night of the summer solstice to enjoy some time by candlelight. On June 21, 2009, major facilities and businesses in Japan turned their lights off from 8 to 10 pm. This year's summer solstice also marks the sixth anniversary of an event called Candle Night since it was started in 2003. The idea of holding Candle Night in Japan, where people turn off their lights and light candles in unison, was originally inspired by the Voluntary Blackout movement in Canada, launched in 2001.
During the summer of 2008, businesses and facilities all over Japan to turned out their lights during two events. One was Black Illumination 2008, held on June 21. The other was Lights-Down at the Star Festival on July 7. Between the two events, a total of 149,939 facilities joined the campaign, reducing the amount of electricity used by approximately 2,371,786.51 kilowatts. This translates into 925 tons of CO2 emissions, equivalent to the total daily emission of 64,000 households.
The event now spreads across the world. The Korean Environmental Women's Network, a non-governmental organization in Korea, worked closely with Japanese Candle Night organizers to hold their own Candle Night. Events were also held in Taiwan, Australia, China (Shanghai), Mauritius, and many other countries. The Candle Night Committee now sends out newsletters in English to over 70 countries in its bid to connect activities and shared feelings in each country and around the world.
For more information, visit http://www.candle-night.org/English.
Search IYA2009 Updates
---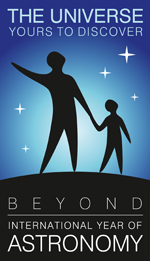 National Nodes: 148
Organisational Nodes: 40
Organisational Associates:33
National Websites: 111
Cornerstone Projects: 12
Special Task Groups: 11
Special Projects:16
Official Products:8
Media Partners:22