IYA2009 on rails in Slovenia
1 July 2009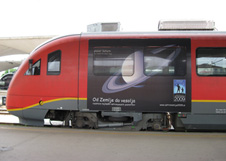 Ten trains decorated with astronomy themed panels will travel across Slovenia from June to December 2009.
This joint initiative of RailAd and the Slovenia IYA2009 National Node will publicize IYA2009, as well as the FETTU exhibition in Ljubljana, that can be seen at the Tivoli Park until the 4th of September 2009.
This project is sponsored by the Slovenian Ministry of Higher Education, Science and Technology and by Slovenske železnice , the Slovenian railway company.
More information: http://www.astronomija2009.si/
Search IYA2009 Updates
---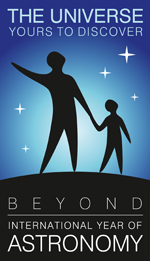 National Nodes: 148
Organisational Nodes: 40
Organisational Associates:33
National Websites: 111
Cornerstone Projects: 12
Special Task Groups: 11
Special Projects:16
Official Products:8
Media Partners:22