New IYA2009 Flickr group aims to share photos from around the world
2 July 2009
The main driving force behind IYA2009 is the army of amateur astronomers who plan and run events around the globe. Often organisers and participants take photos, but rarely is there a central area where these can be collected and shared.
The IYA2009 Secretariat have decided to use the popular site Flickr to help remedy this. A group called International Year of Astronomy 2009 has been created to share images of IYA2009 events and astrophotos. IYA2009 supporters are encouraged to join the group and add their images to the pool, helping to build an excellent resource.
UK astronomy enthusiasts may also be interested to know that IYA2009 Coordinator Steve Owens has created a group called International Year of Astronomy in the UK which aims to share images of British IYA2009 events.
Search IYA2009 Updates
---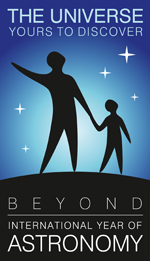 National Nodes: 148
Organisational Nodes: 40
Organisational Associates:33
National Websites: 111
Cornerstone Projects: 12
Special Task Groups: 11
Special Projects:16
Official Products:8
Media Partners:22