Newsletter to SPoCs - New Nodes, Brochure in Spanish and new Cornerstone websites
31 July 2008
New Nodes, Brochure in Spanish and new Cornerstone websites
Dear SpoCs,
The IYA2009 newsletter for this week:
Organisational Matters:
Presently we have 118 National Nodes and 25 Organisational Nodes. New organizational nodes: RED POP Network and European Science Education Research Association.
More information:
http://www.astronomy2009.org/index.php/?option=com_content&view=article&id=360
We are proud to announce that Indian Space Research organisation is our 20th IYA2009 Organisational Associate. Please visit ISRO website: www.isro.org
We are also delighted to learn that the Executive Board of International Council of Science has agreed to endorse IYA2009. Read more about ICSU here: http://www.icsu.org/9_latestnews/latest_33.html
On 9th July, the United States House of Representatives passed House Concurrent Resolution 375, To Honour the Goal of the International Year of Astronomy 2009. This Concurrent Resolution expresses the sentiment of the House of Representatives towards IYA2009. The United States gives a wonderful example that many other nations should follow to try to have similar acknowledgements of IYA2009 by their Governments. More information: http://astronomy2009.us/
IYA2009 Brochure in Spanish
Thanks to the IYA2009 Spanish Node and astroseti.org, the IYA2009 Brochure version 3 is now available in Spanish:
http://www.astronomy2009.org/resources/brochures/detail/brochure03_esp/
Cornerstone websites
The cornerstone projects, 100 Hours of Astronomy and Developing Astronomy Globally have new on-line their own dedicated website, please check the following URLs:
100 Hours of Astronomy: www.100hoursofastronomy.org
Developing Astronomy Globally: www.developingastronomy.org
Upcoming IYA2009 meetings:
If you have any questions, please don't hesitate to contact us.
Kind regards,
Pedro, Lars and Mariana
IYA2009 Secretariat
Search IYA2009 Updates
---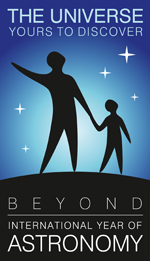 National Nodes: 148
Organisational Nodes: 40
Organisational Associates:33
National Websites: 111
Cornerstone Projects: 12
Special Task Groups: 11
Special Projects:16
Official Products:8
Media Partners:22