The World at Night Newsletter
14 July 2009
News and Report
- The World at Night in collaboration with Dark Skies Awareness project, organize the International Year of Astronomy 2009 Earth and Sky Photo Contest on the importance of dark skies. It is open to anyone of any age, anywhere in the world. More
TWAN in Western Australia - The World at Night exhibition made its first exposure in Australia, in the city of Perth.
TWAN in the Second Life - From the beginning of 2009, the International Year of Astronomy (IYA2009), TWAN opened its exhibition in the Second Life.
TWAN Exhibition Tours in Friuli - TWAN images travel in the north east Italy in several towns of Friuli region.
There are new stunning photos and time-lapse videos on TWAN website, featuring starry nights of the planet's landmarks from all over the world.
Americas
USA
Close Encounters of the Third Kind (Devils Tower) by Wally Pacholka
South Dakota Starry Night (Badlands National park) by Wally Pacholka
Badlands Milky Way (Badlands National park) by Wally Pacholka
Presidential Sky (Mount Rushmore) by Wally Pacholka
Mount Rushmore (Mount Rushmore) by Wally Pacholka
Long Tail Comet (Maryland) by Fred Espenak
Comet, Milky Way, and Zodiacal Light (Kansas) by Doug Zubenel
Detecting Gamma Rays (Whipple Observatory) by P.K. Chen
Shed With a View (Kansas) by Doug Zubenel
The Shadow of the Earth (Hawaii) by Doug Zubenel
Canada
Dancing Aurora (Northwest Territories) video by Yuichi Takasaka
Bolivia
Night at Lake Titicaca (Lake Titicaca) by Fred Espenak
Bolivia Startrails (Lake Titicaca) by Fred Espenak
Europe
France
Moon for Dinner (Brittany) Laurent Laveder
Saint Michel (Normandy) Laurent Laveder
Star Wars (Brittany) Laurent Laveder
Stars or Lights (Brittany) Laurent Laveder
Greece
Thin Crescent and St George (Athens) by Anthony Ayiomamitis
Hungary
Moon and Planets in Hungary (Veszprem) by Tamas Ladanyi
Castle, Startrails, and Iridium Flare (Veszprem) by Tamas Ladanyi
Meteors and Iridium Flash (Veszprem) by Tamas Ladanyi
Sweden
Painting on the Sky (Vallentuna) by P-M Heden
Sun Pillar (Vallentuna) by P-M Heden
Perseus in Gotland (Gotland) by P-M Heden
Spain
Acrobats and Stars (Figueres) by Juan Carlos Casado
Switzerland
Matternhorn in Moonlight (Mount Matterhorn) by Bernd Proschold
Africa
Algeria
Sahara Wondrland (Tassili National park) by Babak A. Tafreshi
Algiers Moonrise (Algiers) video by Babak A. Tafreshi
Scorpion Rise (Tassili National park) by Babak A. Tafreshi
Asia and Middle East
Iran
Perseid Meteor Shower (Mount Damavand) by video Babak A. Tafreshi
Milky Way and Zagros Flowers (Zagros Mountains) by Oshin D. Zakarian
Conjunction and Fall Colors (Tehran) by Babak A. Tafreshi
Clouds and Stars above the Volcano (Mount Damavand) video by Babak A. Tafreshi
Cars and Stars (Alborz Mountains) by video Babak A. Tafreshi
Night Sky Observer (Alamut Valley) by Oshin D. Zakarian
Seasons (Alamut Valley) by Oshin D. Zakarian
Turkey
Aristotle Nightscape (Asos) by Tunc Tezel
Snow and Stars (Kas) by Tunc Tezel
Venus, Mars, and the Seven Sisters (Denizli) by Tunc Tezel
Armenia
Armenia Night Pass (Geghard) by video Babak A. Tafreshi
Night at the Temple (Garni Temple) video by Babak A. Tafreshi
Australia and Pacific
Australia
Moon and Venus (Western Australia) by David Miller/David Malin Images
Planets in Kangaroo Island (Kangaroo Island) by David Miller/David Malin Images
Miraged Sunset and Green Flash (Western Australia) by David Miller/David Malin Images
Polar Regions
Silver Moon (USA-Alaska) by LeRoy Zimmerman
Fairbanks Light Symphony (USA-Alaska) by LeRoy Zimmerman
Road Show (USA-Alaska) by LeRoy Zimmerman
Seek the Light (USA-Alaska) by LeRoy Zimmerman
Guest Gallery is a well-received section on TWAN website to feature selected outstanding Earth and sky photos by non-TWAN creative photographers from around the globe. If you have such remarkable photos to share with TWAN Guest Gallery, please contact us. There are new featured photos on the Guest Gallery:
- Frozen Bavarian Lake Panorama (Germany) by Johannes Gligoris
- Benzingspitz Peak Panorama (Germany) by Johannes Gligoris
- Lake Spitzingsee Winter Panorama (Germany) by Johannes Gligoris
- Spring Arrives (Iran) by Mahdi Hosseini
- Lights of Tehran and Moonset Trail (Iran) by Amin Jamshidi
- Approaching Dawn Panorama (Canada) by Darren Foltinek
- Medieval Lunar Eclipse (Italy) by Daniele Cipollina
- Star Trails over Khoor Salt Lake (Iran) by Ehsan Sanaei Ardakani
- Moonrise above Ketchikan (Alaska, USA) by Chip Porter
- Mount Grappa Star Trails (Italy) by Daniele Mineri
- Starry Night at Petra, Jordon (Jordon) by Manuel Jimenez
- Milky Way from San Pedro de Atacama (Chile) by Saevar Helgi Bragason
- Venus Moon Conjunction Panorama (India) by Atish and Tarun Chawla
- 2008 Total Solar Eclipse in China (China) by Stephan Heinsius
- Kissed by the Moonlight (Germany) by Franz Xaver Kohlhauf
- Bavarian Winternight (Germany) by Franz Xaver Kohlhauf
- ISS over Avebury Stone Circle (England) by Pete Glastonbury

- Ara Pacis, the Warrior and the Dog (Italy) by Marco Candotti

- Moon, Venus, and Jupiter (Bermuda) by Adrian Mendoza

- Warm Windy Night (Hawaii) by Chip Porter

- The Big Dipper over Sedona (USA) by Laurie Larson

- Night and Day (France) by Stefano De Rosa
- TWAN is featuring six special galleries:
Search IYA2009 Updates
---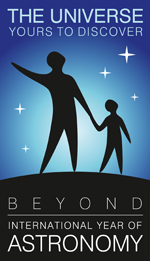 National Nodes: 148
Organisational Nodes: 40
Organisational Associates:33
National Websites: 111
Cornerstone Projects: 12
Special Task Groups: 11
Special Projects:16
Official Products:8
Media Partners:22