Job Opportunity
22 July 2009
Freelancing Web Developer for the International Year of Astronomy 2009 Cornerstone project: Galilean Nights
Following the unprecedented success of IYA2009's 100 Hours of Astronomy (www.100hoursofastronomy.org), which featured hugely popular projects such as a Global Star Party, the live 24-hour webcast "Around the World in 80 Telescopes", a Science Centre webcast, Sun Day and 100 Hours of Remote Astronomy, another series of astronomy events has been highlighted for 22-24 October 2009. This new IYA2009 Cornerstone Project is called Galilean Nights and will see amateur and professional astronomers around the globe taking to the streets, pointing their telescopes to the wonders that Galileo observed 400 years ago.
We are looking for a person with proven web development skills and experience with running web applications in the cloud (using e.g. Google App Engine, Amazon Web Services or similar) and who will help us share the excitement of astronomy through the Galilean Nights Cornerstone Project of IYA2009.
The website will be used to register the details of the hundreds of global Galilean Nights events in a searchable database, share resources such as documents, images and videos, link to Galilean Nights groups on external sites, such as Flickr or Youtube, and be a central point to share Project news and information.

Duties:
Website programming of the Galilean Nights project, including event registration and on-line database management.
Integrate the graphical web design in HTML.
Requirements:
Minimum one larger web application running in the cloud in portfolio.
Experience with freelancing projects and ability to work independently.
At least 2 years of previous professional experience with web development.
Be able to communicate effectively in English both verbally and in writing.
Be able to work remotely and meet deadlines.
On top of the requirements, the ideal candidate will also have:
Basic experience with Adobe Photoshop
Some basic knowledge of astronomy and an interest in communicating astronomy.
Applicants will be able to start work straight away, with the website due to go live by the end of August 2009. On-going support of a few hours a week will be required from the end of August through to early November.
Send as soon as possible your CV and live examples of your work to Catherine Moloney (cmoloney@eso.org)
Search IYA2009 Updates
---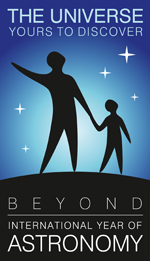 National Nodes: 148
Organisational Nodes: 40
Organisational Associates:33
National Websites: 111
Cornerstone Projects: 12
Special Task Groups: 11
Special Projects:16
Official Products:8
Media Partners:22