News round-up, 24 July
24 July 2009
News round-up, 24 July
What's been making the headlines this week? ASTRONOMY! And IYA2009! Yay!
The eclipse has been big news, so we'll begin with that. Over to the strangely-named The Nut Graph who have not only covered the eclipse, but also gone one better and included a diagram of how these celestial coincidences occur. They also give mentions to 100 Hours of Astronomy and Dark Skies Awareness, so they definitely deserve top spot in this week's round-up. Bet that makes it all worth it eh, Nut Graph? The Times of India also talks about the eclipse, and says that it was particularly special because it fell within IYA2009. Thanks, Times of India! Double-thanks actually, because you talk about the eclipse and IYA2009 again, in this article. You kind-of get top billing too, as you're in the first paragraph.
More eclipse fever comes courtesy of Express Buzz and their delightful tale of children in the Indian city of Thiruvananthapuram. 375 students celebrated the eclipse and IYA2009 by using solar filters they had made in school to observe the Sun. Another novel way to safely observe the spectacle was through a "sooryadarshini", which has a lens pasted to a coconut shell, filled with mud, and fixed over a lunch box. The Sun's rays are caught in a screen and then using an ice-cream ball fixed to a straw, an eclipse is re-created. Think I'll stick with my safety filters, if it's all the same to you. The children also kept a diary of their experiences and some shared these with their colleagues during assembly.
Malta is a country that has embraced IYA2009, so we should let them know our appreciation. And what better way than highlighting an article by The Malta Independent Online. It gives a whistle-stop tour of modern astronomy, with emphasis on the Moon landings and Maltese astronomy activities taking place this year.
To Canada, where Canada.com report that a "goodwill Moon rock" is going back on display. The piece of lunar landscape was gifted to Canada in 1972, but has been sitting in the Canadian Museum of Nature's archives and storage facility for nearly 30 years. Talk about ungrateful! But it's going on display because of the Moon landing anniversary and IYA2009. Observant readers will notice that the first paragraph of the article is just the image caption copied and pasted. It wouldn't be so bad, but they're right next to each other. Shoddy.
Finally, Galileoscope news, this week from The Journal Times. Taking a local perspective of our favourite low-cost telescope (they were designed within The Journal Times' geographic catchment area), there are plenty of facts and figures are given. Great if you like that sort of thing.
Ok, that's your lot. Check local sources for news in your own language, y'hear?
Search IYA2009 Updates
---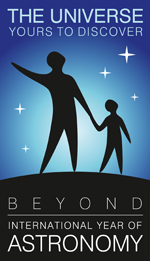 National Nodes: 148
Organisational Nodes: 40
Organisational Associates:33
National Websites: 111
Cornerstone Projects: 12
Special Task Groups: 11
Special Projects:16
Official Products:8
Media Partners:22