Lunar mosaic earns a Guinness World Record
27 July 2009
A team of astronomers in the UK have used specialist cameras and high-end amateur telescopes to produce a professional-quality mosaic of the Moon - earning them a Guinness World Record.
The enthusiasts recorded nearly 1000 image panes and 1.2 million frames of video, altogether totalling 1.1 terabytes of data. These were then digitally stitched together to create the mosaic. The final image incorporates 288 panes resulting in an incredible 87.4 megapixel image of the lunar landscape. Amazingly, features as small as 1km in size can be seen, besting some images taken with large professional observatories.
Guinness World Records presented the team with their certificate at an event hosted by the famous British astronomer Sir Patrick Moore, who helped with the project.
The final image will be displayed at planetariums around the UK, and is also available to buy. All money raised will be donated to the Cystic Fibrosis Trust charity.
Learn more about this incredible project via its official website: http://www.lunarworldrecord.com
Search IYA2009 Updates
---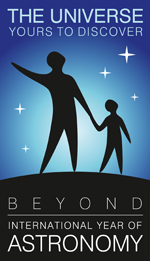 National Nodes: 148
Organisational Nodes: 40
Organisational Associates:33
National Websites: 111
Cornerstone Projects: 12
Special Task Groups: 11
Special Projects:16
Official Products:8
Media Partners:22