Indian IYA2009 event attracts record-breaking numbers
4 August 2009
Each year, the Gandhi Corporation organises a theme fair at the Ahmedabad Education Society grounds for 11 days. In honour of IYA2009, this year's theme was space. In total, more than 700,000 visitors were introduced to the wonders of astronomy as part of this massive outreach opportunity of unprecedented scale.
The space theme began right from the entry ticket windows whose interiors were created to mimic the flight deck of the space shuttle, preparing visitors for the trip into orbit! The long passage leading to the main gate was lined with huge posters depicting how the various parts of the space shuttle are transported and assembled.
The spectacle continued inside, with a tall model of a shuttle, complete with fair representatives dressed as astronauts, who the children were very happy to be photographed next to. Vast representations of the Martian and lunar surfaces had also been prepared. In addition, large posters were on display and the roof was lit up with hundreds of stars, immersing visitors.
The fair was open to the public from 22 May to 1 June 2009, during which time more than 700,000 people attended - a new record for India's IYA2009 efforts.
For more photos of the event, please follow these links:
http://tanmayespace.blogspot.com/2009/06/preparation-and-set-up-photos-of.html http://tanmayespace.blogspot.com/2009/06/participation-photos-of-vacation-2009.html
Search IYA2009 Updates
---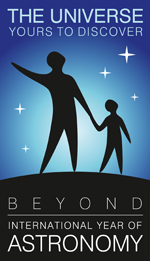 National Nodes: 148
Organisational Nodes: 40
Organisational Associates:33
National Websites: 111
Cornerstone Projects: 12
Special Task Groups: 11
Special Projects:16
Official Products:8
Media Partners:22