IYA2009 News Round-up
7 August 2009
UK newspaper The Guardian has mentioned IYA2009 in an op-ed called In praise of... astronomers. A short but sweet piece, it highlights the work done by stargazing scientists, beginning with using the heavens as a calendar, up to the Hubble Space Telescope.
Attention, young astronomers! The news round-up has some information for you. SpaceRef.com is reporting that more than 200 astronomers from around the world will gather for the first International Conference of Young Astronomers (ICYA) at the Jagiellonian University, Krakow, Poland, from Monday, 7 September to Saturday, 13 September 2009. So if you can get together enough cash from ma / pa / pocket money / paper round / student loan / however it is kids get money these days, why not head over and do some so-called "networking".
Hello, JoongAng Daily. What's that? You've been promoting a joint Korea Foundation for the Advancement of Science & Creativity and Korea Institute of Science & Technology Evaluation and Planning event to promote science, technology and green growth featuring a special exhibition about IYA2009? Good on you.
BBC TV's The One Show has a clip about astronomy and things on its website. At the time of writing it isn't actually working, but if memory serves the presenter does mention IYA2009.
IYA2009 events have been taken to the next level in the Indian city of Kochi, says express buzz. Research scholars of Inter-University Centre for Astronomy and Astrophysics at the Department of Physics, Cusat, have been taking high-quality images of the Moon and using them to perform calculations. Students have also been involved, giving them the chance to contribute to real research. Says the article, "The year 2009 being the International Year of Astronomy, it has been the endeavour of every researcher and student to work on something new in this area of specialisation." Yeeeah!
Here's a story from Cohn Marketing. Families in 24 United States communities will be introduced to The World At Night project as the exhibition is being introduced to shopping centres around the country. Will the prints be for sale, then?
Let's finish up with an unusual one, courtesy of Physorg.com. To bring astronomy to the masses for IYA2009, the Max Planck Institute for Astrophysics has a released a comic on the internet explaining just what happened during the first 40,000 years after the Big Bang.
Well that's another news round-up done and dusted. Remember to check local sources for stories in your own language.
Search IYA2009 Updates
---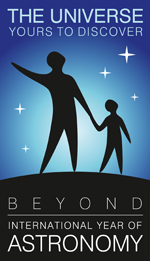 National Nodes: 148
Organisational Nodes: 40
Organisational Associates:33
National Websites: 111
Cornerstone Projects: 12
Special Task Groups: 11
Special Projects:16
Official Products:8
Media Partners:22